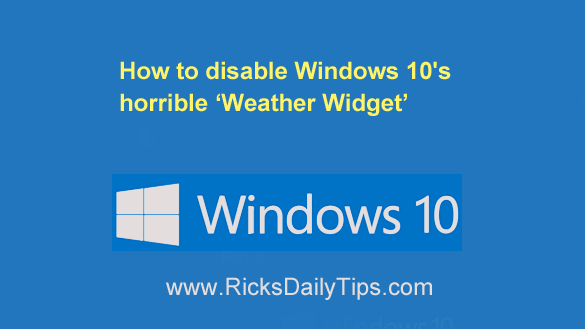 Like my tips?  Click here to sign up for my free Daily Tech Tips Newsletter and you'll never miss one!
---
Do you use a Windows 10 PC?
If so, take a look at the "Notifications" area in the lower-right corner of the screen…
See that little "Temperature" display?
That's the new "Weather" (aka "News & Interests") widget that Microsoft has added to Windows 10.
Just for fun, click on the temperature display to open the widget… 
Notice those ads and news stories?
Yep, I'm talking about the news stories from CNN, The Washington Examiner, The New York Times and other news and informational websites.
Go ahead and click on one of those stories and notice which browser the story opens up in.
Why, it's none other than Microsoft Edge. But what if you don't like Edge and you have a different browser set as your default browser?
Well tough luck – Edge it is, whether you like it or not!
Now, take a peek at the Address bar…
Do you see a URL from the website you were expecting to visit when you clicked on the news headline?
Why no, you don't. It's actually the URL for a page on Microsoft's very own MSN site.
By now you should have noticed a pattern…
Your new 'Weather' widget is nothing more than a tool for promoting Microsoft's Edge browser and MSN website while also exposing you to a brand new source of ads.
And finally, just for fun, open the Weather widget again and click on the Manage Interests link in the top-right corner…
If you were expecting the usual Windows 10 "Settings" app to open up, it didn't. Microsoft even placed the widget's settings on the MSN website.
If you're wondering why I find all of this irritating, it's because:
1 – The app appears to be quite buggy.
2 – I don't need another place to view ads on my work PC.
3 – I believe Microsoft should respect the choice we made when choosing a default browser.
4 – I believe they should have informed us about the widget and given us the opportunity to decline it during the installation of the Windows Update that installed it.
After all, they always make us slog through a bunch of settings options after every major update anyway, right? They could easily have added this one to the list.
5 – There doesn't seem to be a way to actually remove the widget from your PC. It's always there, chewing up precious clock cycles.
Sure, you can "disable" the widget, but that doesn't completely prevent part of its code from running in the background. All it really does is hide it from the Taskbar.
I did hide it from my Taskbar. If you'd like to do the same, here's how:
1 – Right-click on a blank area of the Taskbar.
2 – Click News and interests and then select Turn off from the pop-out menu.
That's all there is to it. It's still there, but at least it's now out of sight.
---
If you found this post useful, would you mind helping me out by sharing it?
Just click one of the handy social media sharing buttons below. Thanks a bunch!