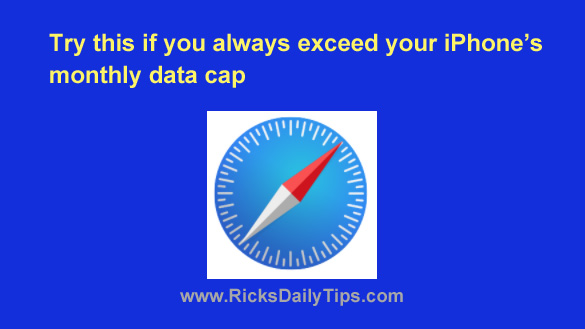 Do you have an iPhone with a limited data plan that always seems to run out before the end of the month? If so, you're not alone.
With all the streaming media and other forms of data-heavy content being consumed today it's pretty hard to avoid exceeding a modest monthly data cap.
You can always change the way you use the Internet in order to stay under your data cap, but there's one very simple thing you can try first: Turn off Web Page Preloading in your iPhone's Safari browser.
The idea behind Web Page Preloading is a good one: Whenever you perform a web search using your Safari browser, the web page listed at the top of the search results is downloaded to your phone and preloaded into Safari's browser's cache.
If you end up selecting that top search result list that page be displayed almost instantaneously in the browser because it has already been downloaded to your phone.
Sounds great, right? Well, it is…unless you happen to be on a limited data plan!
All the preloaded web pages that get downloaded to your phone throughout the month consume a portion of your allotted data, whether you actually end up viewing those pages or not.
And that extra "wasted" data could be just enough to push your data usage over the limit.
Luckily, you easily can turn off "Web Page Preloading" if you're exceeding your monthly data allotment on a regular basis. Here's how:
1 – Tap the Settings icon (it looks like a "gear" or "cog").
2 – Tap Safari.
3 – Toggle the "Preload Top Hit" setting to OFF.
That's all there is to it. Your iPhone should no longer preload the top web pages returned for your searches, and that just might preserve enough of your data allotment to prevent you from exceeding the cap!
---