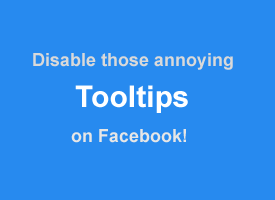 Question from Elise:  I hate it when I'm trying to type a comment or status update on Facebook and a tooltip pops up and won't let me see what I'm typing.
I use Facebook with both Chrome and Firefox and the problem shows up in both of them. Is there any way to disable the annoying tooltips in those browsers?
Rick's answer:  I'm not a fan of tooltips either Elise. They always seem to pop up and get in the way of my typing, especially if I'm in a hurry.
Unfortunately, Chrome doesn't currently have a setting that will allow you to disable tooltips on web pages. I was able to track down a Chrome extension that supposedly disables them, but it wouldn't work after I installed it. Hopefully Google will add a "No Tooltips" option to the Settings screen at some point.
On the other hand, Firefox does let you disable tooltips. Just follow these steps:
1 – Launch Firefox.
2 – Type (or copy and paste) about:config into the address bar, then press the Enter key.
3 – Type (or copy and paste) browser.chrome.toolbar_tips into the search box. The screen should clear and leave just that one option showing on the page.
4 – Click the toggle icon at the right end of the line to change the setting to false.
5 – Close Firefox and then re-launch it.
That's all there is to it. The tooltips should no longer pop up when you're trying to type something on Facebook (or any other website for that matter).
Note: If you ever decide to re-enable tooltips, simply repeat the steps listed above and toggle the word false back to true in step 4.
I hope this helps, Elise. Good luck!
Update from Elise:  That worked Rick! I guess I'll be using Firefox with Facebook all the time now. Thanks for your help!
---
Do you have a tech question of your own for Rick? Click here and send it in!