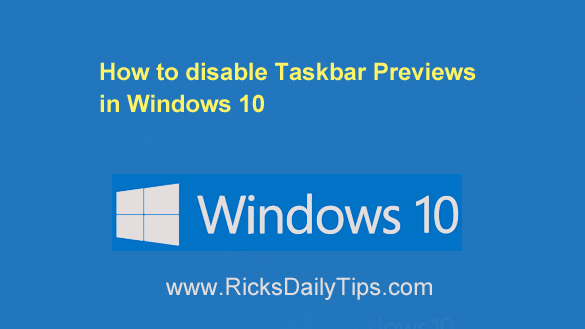 Like Windows 7 and 8 before it, Windows 10 has a Taskbar Preview feature that is enabled by default.
As with most every other Windows feature, some folks love having a small preview of a window's contents pop up when the mouse is hovered over a Taskbar button.
Others, myself included, find it a bit irritating.
If you find it irritating as well, you can ditch Taskbar Previews in Windows 10 by following the instructions below. But first, I must ask you to read my semi-standard disclaimer: 
Important: The steps detailed below for this tip require editing the Windows Registry, a process that can cause system instability and even failure for the PC to boot properly into Windows if something were to go wrong.
By following the steps below, you agree that if the earth's poles switch polarity, your cat starts howling at the moon or your computer becomes unstable or refuses to boot up at all after completing the steps in this tip, it won't be the fault of me, your humble tech blogger. In short, you agree to follow the steps listed below at your own risk.
If you agree with everything I said above, please feel free to follow the steps below to disable Taskbar Previews on your Windows 10 PC:
1 – Press the Windows+S key combination to open a Search box.
2 – Type regedit into the search box, then press the Enter key to open the Registry Editor utility. (Click Yes if the "User Account Control" window pops up.)
3 – Make a backup of the Registry just in case something goes wrong by clicking File>Export. Be sure to select All for the "Export Range".
4 – Navigate to this Registry key:
HKEY_CURRENT_USER\Software\Microsoft\Windows\CurrentVersion\
Explorer\Advanced
5 – In the right-hand pane, double-click the Dword labeled ExtendedUIHoverTime, then change the value to 25000.
Note: If the Dword ExtendedUIHoverTime doesn't already exist, you can create it and then complete step 5.
6 – Click File>Exit to save the change and exit the Registry Editor.
7 – Restart your PC to make the change take effect.
That's all there is to it. After your computer boots back up into Windows you should see that the Taskbar Previews no longer appear when you hover your mouse over the Taskbar buttons.
Disclaimer: What I said in the paragraph above isn't entirely true. If you hover the mouse over a Taskbar button for a total of 25 seconds (the 25000 your entered in step 5 equates to a 25 second delay) that window's preview will indeed appear.
However, that long delay effectively results in Taskbar Previews being "disabled" since your mouse will (likely) never be positioned over a Taskbar button for more than a few seconds at a time.
---