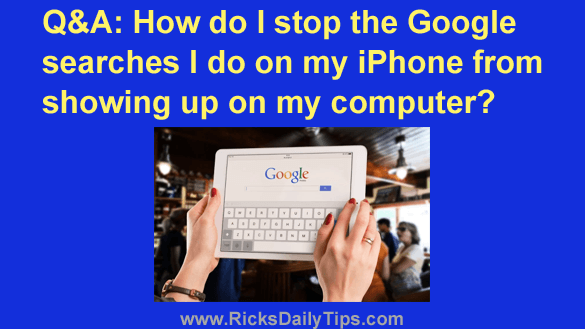 Question from Ellen:  Hi Rick. Thank you for providing such good information. I have a question.
I use Safari as my browser and Google as my search engine on my iPhone.
My search history automatically shows up on our Windows PC on which we use Google chrome.
Other than deleting my searches, is there any way to keep my iPhone searches using Safari from showing up on our PC? 
Thanks!
Rick's answer:  Ellen, the reason the Google searches you do on your iPhone are also showing up on your computer is you have syncing turned on for your Google account.
When syncing is enabled virtually everything you do using Google is updated on every device that uses that same Google account.
The syncing actually takes place within your Google account, not in the browser itself. That's why syncing works even when you're using a third party browser like Safari.
If you're signed into your Google account and you're using a Google service, syncing is going to take place regardless of which browser you happen to be using at the time.
Lots of folks love syncing because it lets you switch devices at will and still have all of your Google-related activities up-to-date and available for use after you switch devices.
Others however would rather watch a movie they hate 100 times in a row than have their Google accounts syncing their every activity among all their devices – and I happen to be one of them!
Luckily, it's very easy to disable syncing on your Google account. Here's how:
1 – Open the Chrome browser on your computer and log into your Google account.
2 – Click the Menu icon in the upper right-hand corner of the Chrome window (it looks like three vertical dots).
3 – Click Settings.
4 – Click Sync and Google Services.
5 – Click the Turn Off button.
6 – (Optional) If you want to clear all of the information Google has stored in your account on this device you can check the box beside "Clear bookmarks, history, passwords and more from this device".
Important: Before you select this option make sure you know all of your passwords before proceeding. If you clear your stored passwords you'll have to enter them before being allowed to log into any accounts that Google is currently storing passwords for.
7 – Click the Turn Off button to confirm that you really want to disable syncing.
That's all there is to it. Once syncing has been disabled the Google searches you perform on your iPhone should no longer be synced with any other devices when using that same Google account.
I hope this helps, Ellen. Good luck!
---