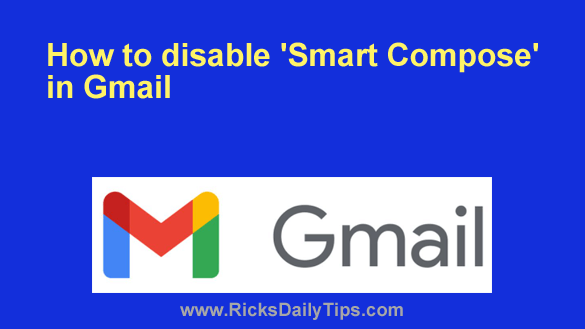 If you use Gmail you've probably noticed how Google provides suggestions for how to complete your sentences as you're typing out your emails.
This feature is called "Smart Compose", and Google's stated reason for providing it is to help you write your emails faster by providing suggested text snippets based upon your past writings.
As with all things, some folks love the Smart Compose feature, while others detest it. 
Personally, I'm not a fan, primarily because the things I have written in the past are rarely what I intend to write in my new correspondence.
I've made the decision to disable Smart Compose on my Gmail account because it really doesn't benefit me in any way. And besides, I happen to find it distracting.
If you find it distracting as well, you can disable it on your account too.
Here's a short video that shows how to disable Smart Compose on a Windows 11 PC…
Note: You can watch this video at full screen by clicking the little "square" icon in the lower-right corner of the video after it begins playing.
If you prefer following written instructions, just follow the directions below for the device you're using.

If you use Gmail in a web browser on a laptop or desktop computer:
1 – Open Gmail in your browser and click the "gear" shaped Settings icon located on the right side of the Gmail Search bar.
2 – Click See all settings.
3 – Make sure the General tab is selected, then scroll down and toggle the "Smart Compose" setting to Writing suggestions off.
4 – Go down one line and toggle the "Smart Compose personalization" setting to Personalization off.
5 – Scroll all the way to the bottom of the screen and click Save Changes.

If you use the Gmail app on a mobile device:
Note: The steps for disabling Smart Compose on a mobile device vary among devices and app versions. Therefore you should use the steps below as a general guide.
1 – Open the Gmail app and tap the "three lines" hamburger" menu icon.
2 – Scroll down and tap Settings.
3 – Tap on your Gmail email address.
4 – Scroll down and tap Smart features and personalization.
5 – Read the list of features this setting will disable in addition to Smart Compose and decide whether you want to disable them all (this is an all or nothing settings change).
6 – If you want to disable Smart Compose and the other features in the list, tap Turn off features.

That's all there is to it. Once Smart Compose has been disabled Google will no longer provide you with writing suggestions.


---