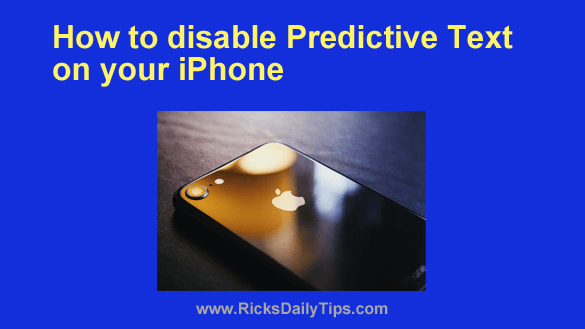 Your iPhone's keyboard has a feature called Predictive Text that analyzes your words as you are typing and tries to predict what you are going to type next.
When you first get a new iPhone it doesn't do all that great at predicting what you're planning to type.
However, over time, it can become surprisingly accurate with its predictions as it learns the way you "think" and type.
Most folks seem to love the Predictive Text feature and consider it to be a huge time saver, but every now and then I'll receive a request for instructions for turning it off.
If you happen to dislike Predictive Text, it's very easy to disable it on your iPhone. Here's how:
1 – Tap the Settings icon (it looks like a "gear" or "cog").
2 – Tap General.
3 – Tap Keyboard.
4 – Toggle the Predictive setting to Off.
That's all there is to it. From now on you'll be able to type away on your iPhone's keyboard without it constantly trying to read your mind and complete your thoughts for you.
By the way, while you're on the "Keyboard" settings page be sure to check out the other settings listed there. You just might find another setting or two that you can tweak to make your iPhone's keyboard interface work more to your liking.
And don't be afraid to experiment. If you end up disliking a change you made you can easily reverse it simply by changing that setting back to its original state.
---