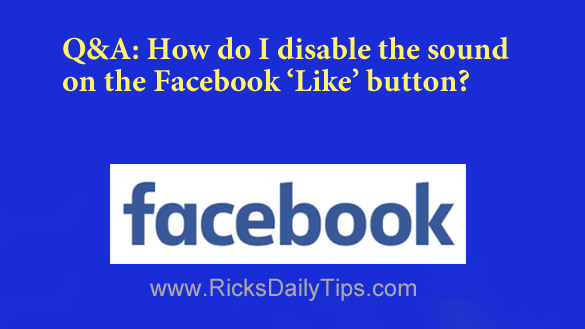 Click here to sign up for my free Rick's Tech Tips Newsletter!
---
Question from Eloise:  I recently started using the Facebook app on my phone and there's something that's really bugging me.
Every time I "Like" something it makes an annoying popping sound and it's driving me bonkers.
Surely there's some way to stop it from making that sound. Can you tell me how to do it?
Rick's answer:  I agree with you, Eloise. That really is an annoying sound, especially if you're in a place like a library where making distracting sounds is discouraged.
Luckily, it's very easy to turn off the sound the "Like" button makes when you tap it. Just follow the steps below.
Note: Depending on the version of the Facebook app that's on your device, the steps in this procedure could vary just a bit. Therefore you should use this as a general guide.
1 – Open the Facebook app and sign in to your account.
2 – Tape the Menu icon in the top-right corner of the screen (it looks like three horizontal lines).
3 – Tap Settings & Privacy.
4 – Tap Settings.
5 – Scroll down and tap Media (on some devices this is listed as Media and contacts).
6 – Scroll down and toggle the "Sounds in the app" setting to Off.
Prefer following visual instructions? Watch this short video:
That's all there is to it. You should no longer hear that annoying popping noise every time you "Like" something on Facebook.
I hope this helps, Eloise. Good luck!
Update from Eloise:  Thank you, thank you, thank you!!!
---
Click here to ask me a tech question.