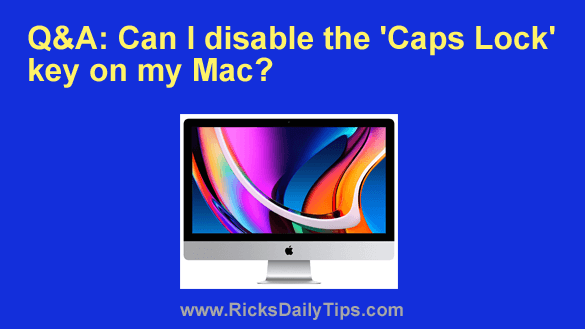 Question from Betty:  Thanks for everything you do to help us, Rick. Your tips are wonderful.
If you don't mind I'd like to ask a question about my iMac.
I'm always hitting the 'Caps Lock' key by accident and typing things in all upper case.
I read this tip that explains how to disable the Caps Lock key on a Windows computer.
Is it possible to disable it on a Mac too? If so, can you tell me how?
Rick's answer:  It sure is, Betty. And as luck would have it, it's actually pretty easy to do.
Just follow these steps to completely disable the 'Caps Lock' key on your Mac:
1 – Click the Apple icon on the left-hand side of the top menu bar, then select System Preferences from the drop-down menu.
2 – Select the Keyboard tab.
3 – Click the Modifier Keys… button in the lower-right corner of the 'Keyboard Preferences' window.
4 – Select the keyboard you want to disable the Caps Lock key on.
Note: You can skip this step if you only use one keyboard with your Mac.
5 – Change the setting in the "Caps Lock Key" field to No Action.
6 – Click the OK button.
7 – If you have more than one keyboard connected to your Mac, repeat this procedure for each of the other keyboards.
That's all there is to it. From now on accidentally pressing the Caps Lock key while typing on your Mac won't have any effect at all on what you're typing.
I hope this helps, Betty. Good luck!
Update from Betty:  Thank you a millions times! It worked perfectly!
---