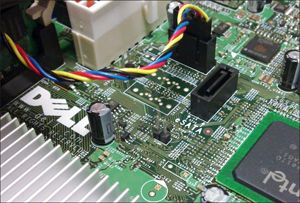 Question from Charlene R.:  I have an old Dell OptiPlex GX280 desktop computer that I used for several years before I bought the one I have now.
I recently found out that I need to copy a couple of very important files off of that computer so I brought it up from the basement and hooked it up.
My problem is it has a BIOS password on it and I can't remember it!
I tried every possible password I could think of that I've used in the past and nothing works.
I REALLY need to get to those files if there's any way possible. Do you know of a way to disable the BIOS password so the computer will boot up into Windows?
Rick's answer:  This must be the week for forgotten BIOS passwords, Charlene. Yours is the 3rd question of this nature that I've received within the last 3 days.
Anyway, the answer to your question is yes, you can indeed disable the forgotten BIOS password on your old Dell machine. Here's how:
Note: I found the instructions below in the Dell OptiPlex GX280 Online User's Guide.
1 – Shut down the PC and unplug the power cord.
2 – Press the PC's power button and hold it for 10 seconds to drain any stored electric charges from the system.
3 – Remove the case cover.
4 – Look for a tiny black plastic jumper on the motherboard labeled PSWD and remove it from the pins (just grasp it firmly and pull it straight up).
5 – Put the cover back on the PC, connect the power cord and then turn the machine on. If all is well the computer should now boot into Windows.
6 – Find the files you want to retrieve and copy them onto a USB flash drive.
That's all there is to it, Charlene. I hope this helps. Good luck!
Update from Charlene: You're a lifesaver Rick! Thank you, thank you, thank you!!!!
Bonus tip #1: You can usually find a copy of most any tech product's user manual either in the "Support" section of the manufacturer's website or at ManualsOnline.
Bonus tip #2: Want to make sure you never miss one of my tips? It's easy! Just…
Click here to sign up for my free Rick's Daily Tips Email Newsletter!
---
Would you like to ask Rick a tech question? If so, click here and send it in!
If you found this post useful, would you mind helping me out by sharing it? Just click one of the handy social media sharing buttons below. Thanks a bunch!