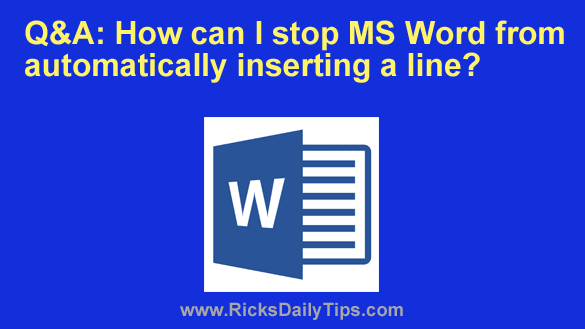 Question from Kelly:  I've always used Google Docs for my writing but I recently bought Microsoft Office because that's what I'll be using at my next job.
I've been practicing with Word and it seems to be ok, but sometimes it will place a random horizontal line in the document when I type certain characters.
How can I make it stop doing that? 
Rick's answer:  Kelly, as you have discovered, Microsoft Word's "Autocorrect" tool automatically converts certain sequences of repeated characters into different types of horizontal lines.
For example, if you type three successive dashes Autocorrect will place a solid line in your document.
If you type three equal signs you'll get a solid double line.
This is actually a very handy thing to have available to you if you occasionally need to insert a line into your documents. And you can easily remove an automatically inserted line by immediately typing Ctrl+Z.
But that being said, you can disable the insertion of automatic lines altogether if you don't think you'll ever want to use that feature. Here's how:
1 – Open Microsoft Word and select the File tab.
2 – Click Options.
3 – In the left-hand pane, click Proofing.
4 – In the right-hand pane, click Autocorrect Options.
5 – Click Autoformat As You Type.
6 – Find the "Apply as you type section" and uncheck the box beside "Border lines".
7 – Click the OK button.
That's all there is to it. Word's Autocorrect tool should no longer automatically insert lines into your documents.
Note: Even after making the change above you'll still be able to manually add a horizontal line to your Word documents using the menus. This page explains how.
---