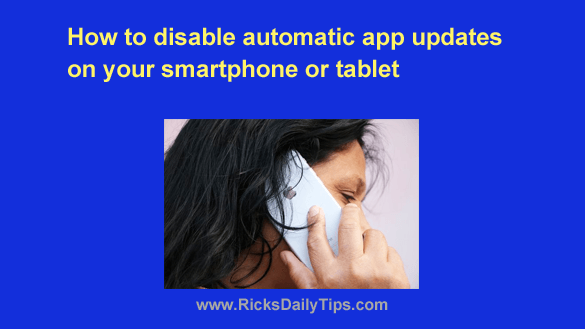 Click here to sign up for my free Rick's Tech Tips Newsletter!
---
Do you have an iPhone, an iPad or an Android device?
If so, you probably know that by default your device will update your apps automatically as soon as updates become available.
Auto-Updates are fine if you are comfortable with accepting every app's "permissions" and you are almost always in a place where there's a strong cellular or Wi-Fi signal available.
But if you prefer to review the permissions before allowing your apps to update (yes, permissions are updated at times) or if you are often in places with weak signal coverage, you'd probably be better off setting Auto-Updates to "Off".
Luckily, that's pretty easy to do. Just follow the steps below for your device type.
If you have an iPhone:
1 – Open the Settings app.
2 – Scroll down and tap App Store.
3 – Toggle the App Updates setting to Off (it should change from green to gray).
If you have an Android device:
1 – Open the Google Play Store app.
2 – Tap on your profile photo (you'll find it on the right-hand side of the Search bar).
3 – Tap Settings.
4 – Tap Network preferences.
5 – Tap Auto-update apps.
6 – Select the Don't auto-update apps option, then tap Done.
That's all there is to it. Your device should now handle app updates in the manner you selected above.
If you chose to disable Auto-updates completely you'll receive a notification when updates are available for your installed apps. You can then update those apps manually at a time that's most convenient for you.
If you chose to allow Auto-Updates when your device is connected to Wi-Fi, any available updates will be installed automatically the next time your device connects to an active Wi-Fi connection.
Bonus tip: This post explains how to protect your Android smartphone or tablet from malware attacks.
---
Cick here to ask me a tech question.