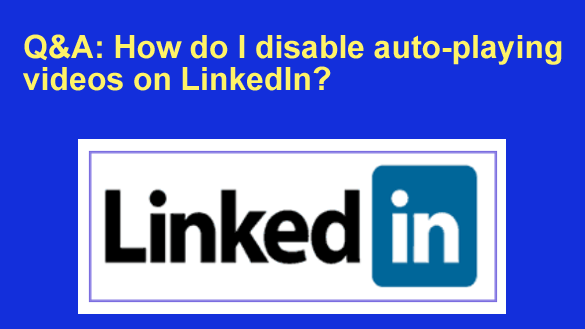 Question from Susan:  I hadn't been on LinkedIn for a while so I logged on yesterday to see what I had missed.
As soon as I logged in a video started playing automatically and the sound was so loud it actually startled me. I encountered several other auto-play videos too, and I absolutely detest them.
Can you tell me how to disable auto-playing videos on my LinkedIn account? 
Rick's answer:  I'm right there with you on this, Susan I too detest autoplaying videos anywhere on the web!
I'm sure some folks enjoy having videos start playing automatically as soon as they scroll into view, but so far I haven't found anyone that actually does.
Luckily, it's very easy to disable auto-playing videos on LinkedIn. Just follow the steps below for the device you're using…
If you use LinkedIn in a web browser on a laptop or desktop computer:
1 – Log in to your LinkedIn account.
2 -Click on your tiny avatar photo near the right side of the menu bar at the top of the LinkedIn window.
3 – Click Settings & Privacy.
4 – Scroll down to the "Autoplay videos" and toggle it to Off.
If you use the LinkedIn app on a mobile device:
1 – Tap your tiny avatar photo in the corner at the top of the screen.
2 – Tap Settings.
3 – Tap Account preferences.
4 – Scroll down and change the "Autoplay videos" setting to Never Autoplay videos.
That's all there is to it. From now on any videos you encounter on LinkedIn won't start playing until you click the Play button.
I hope this helps, Susan. Good luck!
Update from Susan:  Thanks, Rick. Much better now!
---