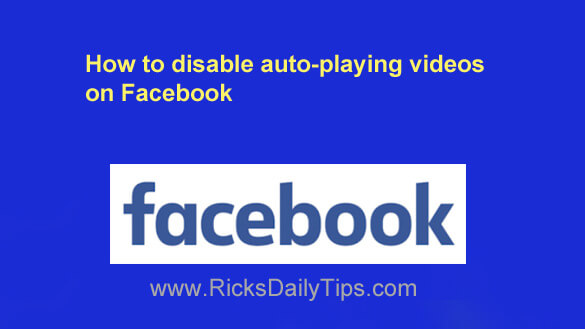 Have you noticed that the videos in your news feed start playing automatically as soon as they scroll into view?
Personally, I'm not all that fond of auto-playing videos. I'd much rather click the little arrow to manually play the videos I want to watch.
Truth be told, I don't watch many of them because they are often malicious and dangerous.
But that being said, I do watch them on very rare occasions if it's something that really interests me AND I completely trust the person or page that posted it.
If you feel the same way I do about auto-playing videos, it's very easy to disable that feature on Facebook. Just follow the directions below for the device you're using.
If you use Facebook in a web browser on a laptop or desktop computer:
1 – Visit the Facebook website and sign into your account.
2 – Click the Down Arrow located in the upper right-hand corner of the window.
3 – Click Settings & Privacy.
4 – Click Settings.
5 – Click the Videos link over in the left-hand column.
6 – Toggle the "Auto-Play Videos" setting to Off.
If you use the Facebook app on a smartphone or tablet:
1 – Open the Facebook app and sign into your account.
2 – Tap the menu icon located near the top-right corner of the Facebook app (it looks like three horizontal lines stacked atop one another).
3 – Scroll down and tap Settings & Privacy.
4 – Tap Settings.
5 – Scroll down and tap Media.
6 – Scroll down to the "Autoplay" section and select Never Autoplay Videos.
That's all there is to it. From now on you shouldn't see any of the videos in your newsfeed begin to play on their own before you click on them.
Bonus tip: This post explains how to make Facebook stop sending you all those irritating game requests and app notifications.
---