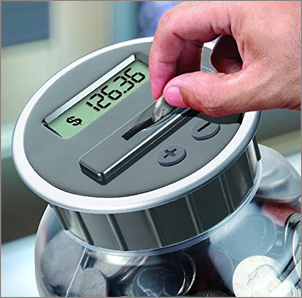 Nowdays it is more important than ever to teach your kids the importance of putting money aside for a rainy day.
Teaching them why they need to save is the most important part of this task, and I'm sure you've already developed a good plan for that.
The purpose of this post is to let you know about a really neat tool that you can use to facilitate the actual saving part of this endeavor.
It's called a Digital Coin Bank, (#ad) and it works something like this:
First, your child inserts a coin through a slot in the lid. As the coin passes through the slot the digital counter determines the value of the coin based upon its size, then automatically adds that amount to the running total.
Any number of coins can be added (one at a time of course) and the counter will add the value of each coin to the total.
Here's a short video that shows exactly what I'm talking about: 
Your child can even remove money from the bank as needed without messing up the running total displayed on the lid. All you have to do is use the buttons on the lid to subtract the amount of cash that was removed from the displayed amount.
You can also remove the lid at any time to add folding money, then add the amount of the additional cash to the total using the buttons on the lid.
As you can see, the + and – buttons make it easy to ensure that the total displayed on top of the bank will always match the actual amount of cash contained within it.
The counter on this bank recognizes all valid U.S. coins and automatically adds their face value to the amount displayed as they pass through the slot.
Bottom line: If you have a small child a Digital Coin Bank is the perfect tool for teaching him/her how to save for the future.
Click here (#ad) to check out my favorite Digital Coin Bank at Amazon.
Bonus tip: Want to make sure you never miss one of my tips? Click here to join my Rick's Tech Tips Facebook Group!
If Facebook isn't your cup of tea, I invite you to sign up for my Rick's Daily Tips Daily Update Newsletter.
---
Want to ask Rick a tech question? Click here and send it in!
If you found this post useful, would you mind helping me out by sharing it? Just click one of the handy social media sharing buttons below.