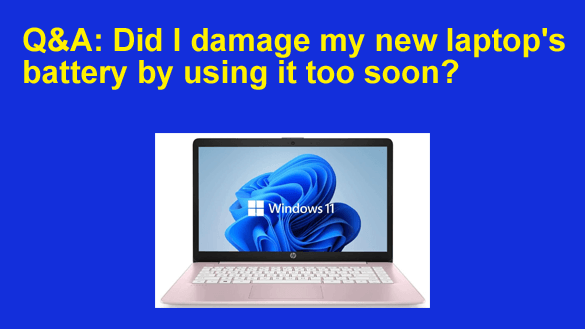 Note: The links in this post are affiliate links.
Question from Freida:  Hi, Rick. I hope you can answer a question for me.
I recently ordered a new laptop from Amazon. When it arrived I took it out of the box and immediately started using it like I normally do.
This morning I read an article that said you're supposed to charge the battery in a new laptop for at least 8 hours before you start using the laptop. 
But I didn't do that. I just went ahead and plugged the power cord into the wall and started using it immediately.
The battery seemed to charge ok and it now says it's 100% charged, but do you think I might have damaged it in any way by not charging it for 8 hours before turning on the machine.
Now I'm afraid to unplug the charger because the battery might be bad. What do you think?
Rick's answer:  Don't worry Frieda, the battery in your new laptop is just fine.
Modern laptops can operate normally and charge their batteries at the same time without damaging anything in the system. In fact, they are designed to do just that.
Also, unlike older battery technologies, the newer lithium-based batteries are quite reliable in general. There are things you can do to damage them, but using your laptop while it's charging isn't one of them.
Bottom line: I'm afraid the article you read is horribly out of date. Keep using your laptop as you always have and everything should be just fine.
---