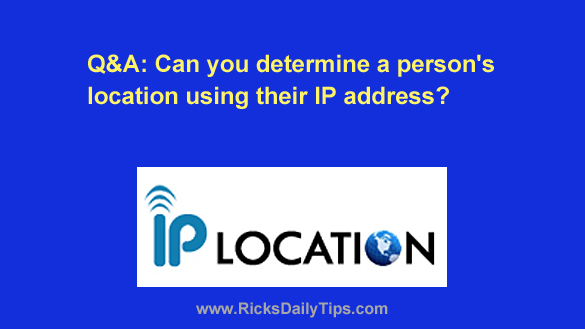 Question from (name withheld by request):  I hope you can help me, Rick. Someone is sending me threatening emails, and it has me worried.
I'm pretty sure it's my ex-boyfriend because he mentions things in the emails that only he should know about. The thing is, I don't recognize the email address.
Is there any way to trace the IP address from the email headers and find out where the emails are being sent from?
I know where this guy lives now so it should be pretty easy to prove that it's him if I can prove where the emails were sent from. He has threatened to "put me in the hospital" and I'm very scared that he might do it.
Rick's answer: I can certainly understand your concern. The short answer to your question is yes, you can easily find out the general location that corresponds to a public IP address – with a couple of huge caveats…
Caveat #1…
If this person is using a Virtual Private Network (VPN) then the IP address contained in the email he's sending out won't show HIS actual IP address.
Instead, that IP address will be one that was assigned by the VPN server. If that turns out to be the case the IP address listed in his outgoing emails could literally be from anywhere in the world.
Caveat #2…
If this person isn't using a VPN you just might be able to determine the general location where the email was sent from by simply visiting the IP Location Finder website and paste the originating IP address into the search box.
The tool will then look up that IP address and display its corresponding city and state.
As I alluded to earlier, I now have to mention that IP addresses are very unreliable indicators of a person's actual location.
There are several reasons why that is. I won't go into them here, but you need to understand that your ex might not actually reside in the location indicated by an IP address.
The above being said, if your ex happens to live in the city and state returned by the search AND he is the only person you know who lives in that general area, you can believe with a pretty high level of certainly that he is the one sending the threatening emails.
My recommendation…
Regardless of what you find out from the IP Location search, I strongly recommend that you report the threatening messages to law enforcement and let them investigate the matter. They generally take threats like this very seriously.
---