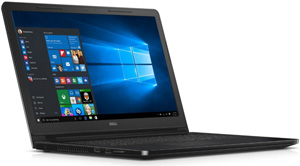 Windows 10 has been out for quite some time now, and there are a plethora of new laptops running Windows 10 to choose from these days.
I recently had a chance to check out the new Dell Inspiron i3552-3240BLK 15.6 Inch Laptop (#ad),  and it appears to be a pretty solid machine.
Even though it has a full-size screen and keyboard, thanks to its relatively thin design it feels compact when you're carrying it around. That's a big plus when you're having to slog your way through an airport or walk to the library. 
This laptop was designed for everyday computing, and it does a fine job at playing videos, editing photos and general Internet use. The N3700 Quad Core Processor 1.6GHz Processor isn't the fast CPU on the block, but it gets the job done as well as any chip in its price range.
Thanks to the spacious hard drive and 4GB of RAM, this machine boots up fast and loads programs in a jiffy!
I like the 15.6 Inch HD LED-lit Truelife Screen in this machine. It's clear and bright, and the 1366 x 768 pixel resolution is more than adequate for everyday general computing tasks.
In addition to the above-mentioned features, you'll also get three USB ports and 802.11bgn Wi-Fi support. As with many modern laptops, an optical drive isn't included.
Bottom line: I like this laptop, and I do think it's a great option for anyone looking for a general purpose laptop that doesn't need the power of a full-blown gaming machine. Just be aware that it won't be setting and speed records.
Click here (#ad) to read more about the Dell i3552-3240BLK 15.6 Inch Laptop at Amazon.
---
If you think your friends would like this post, I'd love you to share it! Thanks a bunch!