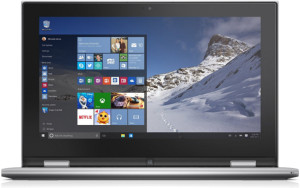 If you love the convenience and ultra-mobility of a tablet PC but also need the power and functionality of a full-blown laptop, the days of having to choose between the two are over thanks to a new breed of PCs known as convertible laptops.
In a nutshell, convertible laptops combine a powerful tablet PC with a standard keyboard and pointing device. When used in the traditional way, these PCs give you all the power and flexibility of a laptop, but swiveling the keyboard 360 degrees converts it into a powerful windows tablet! 
I recently had the opportunity to check out an outstanding convertible laptop from Dell, and I really like it.
The Dell Inspiron 11 3000 Series 2-in-1 Convertible Touchscreen Laptop combines the functionality of a powerful 11.6 inch Windows tablet with an easy-to-use ergonomic keyboard and pointing device to create one of the best computing experiences I've found in a convertible laptop.
The touch screen on this laptop is bright and responsive, and the full-size keyboard makes it easy to type at your normal typing speed.
Although this machine can be used as a tablet, it's certainly no weakling in terms of computing power. Check out these specs:
11.6 inch Backlit Touch Screen (max resolution 1366×768)
Intel HD Graphics
2.16 GHz Intel Pentium N3540 Quad Core CPU
4 GB DDR3L SDRAM
Dell 2.0 Speakers with Waves MaxxAudioB. Pro
500 GB Hard Drive
802.11bgn Wi-Fi
Bluetooth 4.0
Two USB 2.0 Ports
One USB 3.0 Port
2-in-1 Media Card Reader
Up to 7.5 Hour Battery Life
Windows 10 Home
As you can see, although it easily and quickly converts into a tablet, this is in fact a powerful PC that quite effectively bridges the gap between tablet and laptop.
At a little over 3 pounds, the Dell Inspiron 11 3000 Series 2-in-1 is just a tad on the heavy side when used in tablet mode, but that's the case with all non-detachable convertibles since you're holding the keyboard/trackpad unit along with the touch screen.
One thing that I absolutely love about this machine is its "tent" mode.
Just rotate the screen until the laptop is shaped like an upside down "V" and you can easily watch videos just as if you were watching them on a television set.
The image at right shows all the various ways you can use this flexible PC.
Bottom line: If you're looking for a powerful, easy to use Windows laptop that doubles as a fantastic touch screen tablet, this innovative machine certainly deserves strong consideration in my opinion.
Click here to read more about the Dell Inspiron 11 3000 Series 2-in-1 Convertible Touchscreen Laptop at Amazon, including well over a hundred positive user reviews.
Note: The links in this post are affiliate links.