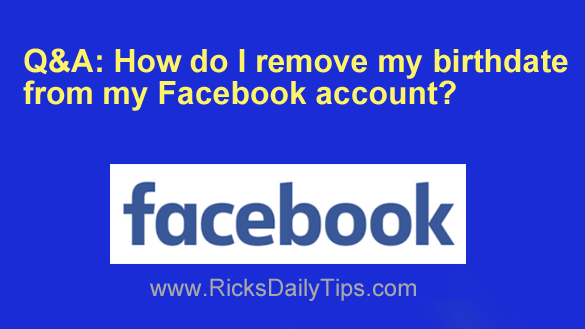 Question from Lois:  Hi, Rick. I need your help with a Facebook issue.
I just noticed that people can see my birthdate when they look at my profile page.
I really don't want strangers (or even Facebook) knowing when my birth date is. I don't even want my friends to know when it is.
How do I completely remove my birth date from Facebook? 
Rick's answer: Lois, Facebook requires that every account have a birth date associated with it, therefore they won't allow you to delete it outright.
I'm afraid you'll have to leave it on there as long as you want to keep your Facebook account open.
But that being said, you can easily change the privacy settings for your birth date to prevent everyone but yourself (and Facebook employees) from seeing it.
And by the way, I think that's a very wise move!
Just follow the steps below that match the device you're using to hide your birth date on Facebook.
Follow these steps if you use Facebook in a web browser on a laptop or desktop computer:
1 – Log in to your Facebook account.
2 – Visit your Timeline page.
3 – Click the About link.
4 – Click Contact and Basic Info.
5 – Click the Pencil icon that's displayed after both Birthday settings and change them to Only Me.
Follow these steps if you use the Facebook app on a mobile device:
1 – Open the Facebook app and log in to your account.
2 – Tap on your tiny profile picture avatar to open the Options menu.
3 – Scroll down and tap Settings & privacy.
Tap Privacy shortcuts.
5 – Scroll down and tap See more privacy settings.
6 – Tap Manage your profile.
7 – Scroll down to the "Basic Info" section and tap the Edit link.
8 – Change the privacy setting for both Birthday lines to Only me.
That's all there is to it. Now you will be the only Facebook user (except for Facebook employees) that can view your birth date.
I hope this helps, Lois. Good luck!
Bonus tip: This post explains why there's really no such thing as privacy as on Facebook.
---