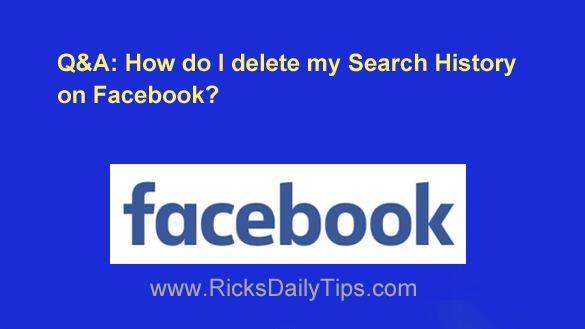 Question from Alveda:  I found out through a mutual friend that my ex recently broke into my Facebook account.
Apparently he checked my search history to see if I was trying to hook up with any old boyfriends.
I do NOT like that!! I didn't even know Facebook recorded the things you search for.
Is there any way to delete my search history? And is there a way to prevent Facebook from saving it in the first place?
Rick's answer:  Hi, Alveda. Before I answer your questions, I strongly recommend locking down your Facebook account right now in order to prevent your ex (or anyone else) from breaking into it again in the future.
It's really not all that difficult to keep hackers and other miscreants from gaining access to your account. This post explains how to do it, step-by-step.
Now that you have locked down your account, I'll address your second question first. The answer is no, Facebook doesn't allow you to prevent them from compiling a list of your searches.
Why? Because they use your search history to help them decide which ads to display while you're using the site.
They know  if they can show ads related to the topics you're interested in, you'll be more inclined to click on them (and that results in more ad revenue for Facebook). Which brings us back your first question…
You can easily delete your entire Facebook search history with just a few clicks or taps, making it easy to do so every time you prepare to log out of your account.
Just follow the steps below for the device you use to access your Facebook account.
If you use Facebook in a web browser on a laptop or desktop computer:
1 – Visit your Timeline page and click the Options icon at the far-right end of the menu bar (it looks like three horizontal dots) and then click Activity Log.
2 – In the left-hand column click Logged Actions and Other Activity.
3 – Click Search History.
4 – Click the Clear Searches link that located near the top of the window on the right.
If you use the Facebook app on a mobile device:
1 – Visit your Timeline page and tap the Options icon (it looks like three horizontal dots).
2 – Tap Activity Log.
3 – Scroll down and tap Logged Actions and Other Activity.
4 – Tap Search History.
5 – Tap Clear Searches.
That's all there is to it Alveda. It probably seems like a complicated procedure, but it really isn't. Once you've done it a few times, you'll be able to do it in just a few seconds without even having to think about it!
---