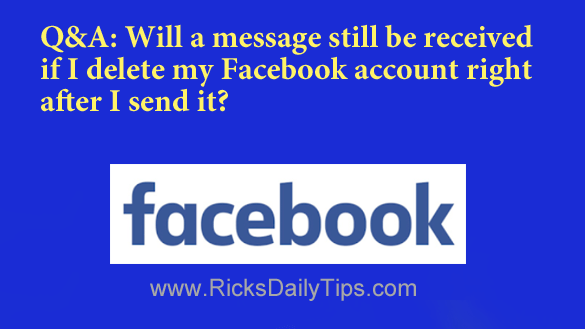 Click here to sign up for my free Rick's Tech Tips Newsletter!
---
Question from Hannah:  I've been on Facebook for a long time but my ex-boyfriend has recently started sending me nasty messages. I want to tell him off once and for all and then delete my account.
If I do that, will he still receive the message even after my account has been deleted?
Rick's answer: Hannah, the short answer to your question is yes. On Facebook, a message is delivered to the recipient's inbox just as soon as you press the Enter key or tap Send in Messenger.
And it'll stay in his inbox until he deletes it, even if your own account is no longer active.
Now that we have that out of the way, let me tell you about a couple of other options you have for ditching your ex on Facebook besides going nuclear and deleting your account:
1 – Your first option (which is the one I recommend) is to block him immediately after you send him that final message. After he is blocked he'll still be able to read your message, but he will no longer be able to see anything you do on Facebook in the future or send you any more messages.
As a matter of fact, he won't even be able to view your profile. As far as he can tell, your account will no longer even exist!
Follow these steps to block your ex from seeing or interacting with your Facebook account:
a) Visit your ex's Timeline page.
b) Click the three horizontal dots to the right of the Message button, then select Block on the drop-down menu.
c) Click Confirm.
2 – Your second option is to unfriend your ex (if you haven't already done so), then deactivate your account instead of deleting it outright. When you deactivate a Facebook account, the account still exists along with all of your Likes, Messages, Photos, etc. – but no one can see it.
You'll be able to reactivate your account later and simply pick up where you left off. Hopefully, your ex will no longer see your account while it's deactivated and assume you have simply deleted it.
The problem with this approach is he will likely see your name and photo pop up in the "People You May Know" section after you have re-activated your account. If he does, he'll once again be able to view your Timeline, photos, and pretty much everything else associated with your account.
If you decide to go that route, simply follow these steps to unfriend your ex:
1 – Visit your ex's Timeline page.
2 – Click the Friends button, then select Unfriend from the drop-down menu.
I hope this helps Hannah. Good luck!
Bonus tip: This post explains why setting everything on Facebook to 'Friends Only' won't fully protect your personal information and photos.
---
Click here to ask me a tech question.