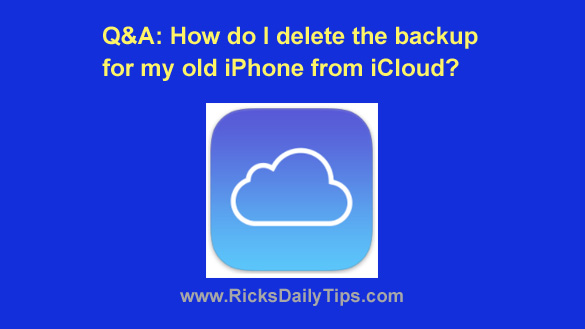 Question from Claire:  I recently lost the iPhone I'd had for several years so I bought a new one to replace it.
That's not really a bad thing because I'd been looking for an excuse to buy a new one (smile).
The thing is I still have the backup from the old iPhone stored in my iCloud account. How can I get rid of it?
Rick's answer:  Luckily, it's pretty easy to delete an iCloud backup that you no longer need, Claire.
Just follow the steps below with your new iPhone.
Important: Make absolutely sure that you really want to delete the backup for your lost iPhone.
Why is this important? Because if you delete the backup you won't be able to use it to restore your backed-up files to the old phone should you happen to find it at some point. Just sayin'.
If you're sure you want to delete the backup simply follow the steps below:
1 – Tap Settings.
2 – Tap [your name].
3 – Tap iCloud.
4 – Tap – Manage Account Storage.
5 – Tap Backups.
6 – Tap the name of your old iPhone and then tap Delete Backup.
That's all there is to it. The backup for your old iPhone should no longer exist in your iCloud storage account.
I hope this helps, Claire. Good luck!
Bonus tip: This post explains how to get (and afford) a brand new iPhone every single year!
---