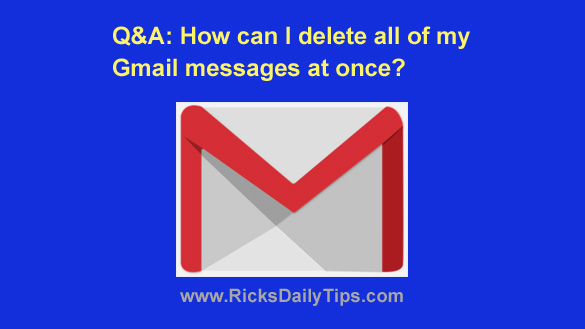 Question from Kenny:  I love your site man. Too cool!
I hope you can help me with a Gmail question.
I have over 7000 messages in my Gmail Inbox and about as many in my "Sent Mail" folder.
I'd like to wipe out all those old messages and start fresh, but it would take forever to go through there and delete them a page at a time.
My question is do you know of a way to delete all of my Gmail messages at once? Thanks in advance.
Rick's answer:  It's actually pretty easy to clear out your Gmail account in one fell swoop Kenny, but you'll have to do it while using Gmail in a web browser on a laptop or desktop computer. You won't be able to do it using the Gmail mobile app.
Follow these steps to quickly delete ALL of your Gmail messages in one fell swoop:
1 – Open Gmail in a laptop/desktop browser and log in to your account.
2 – Double-check to make sure there aren't any emails that contain important information that you really need to keep. If so, copy and paste the info from those emails into your favorite text editor and save it somewhere external to Gmail.
3 – Click the All Mail link in the left-hand column.
4 – Just above the top message in the list you should see a small box with an arrow beside it. Click that small box to "check" it.
5 – Now you should see a message near the top of the window that reads "All XXX messages on this page are selected". Click the link that reads Select all XXX messages in All Mail. You should receive a confirmation that all of the messages have been selected.
6 – Click Delete to delete every message that's currently stored in your Gmail account.
That's all there is to it. Kenny. Good luck!
Update from Kenny:  Thanks a lot, Rick. That saved me a LOT of work!! And thanks for the reminder about saving any important info. I did have several messages with info that I needed to keep.
---