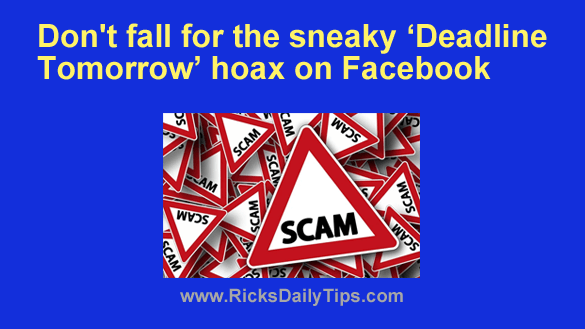 Scams and hoaxes of all types pop up every day on Facebook, and some of them have a habit of rearing their ugly heads time and time again.
These recurring hoaxes are often more annoying than dangerous, but it's still good to avoid them whenever possible.
I have received several messages over the past few days asking about the legitimacy of a recurring hoax that's currently making the rounds again. 
It's called the "Deadline Tomorrow" hoax, and it basically says that Facebook is going to make all of your posts and photos available to the public "tomorrow" unless you copy and paste a semi-legalistic looking statement onto your Timeline to forbid Facebook from making the change to your privacy settings.
Of course "tomorrow" has been coming for several weeks now, but Facebook has yet to make all of our posts and photos public.
Just so you'll recognize it when you see it, here's the full text of one common variation of the hoax:
Deadline tomorrow !!! Everything you've ever posted becomes public from tomorrow. Even messages that have been deleted or the photos not allowed. It costs nothing for a simple copy and paste, better safe than sorry. Channel 13 News talked about the change in Facebook's privacy policy. I do not give Facebook or any entities associated with Facebook permission to use my pictures, information, messages or posts, both past and future. With this statement, I give notice to Facebook it is strictly forbidden to disclose, copy, distribute, or take any other action against me based on this profile and/or its contents. The content of this profile is private and confidential information. The violation of privacy can be punished by law (UCC 1-308- 1 1 308-103 and the Rome Statute). NOTE: Facebook is now a public entity. All members must post a note like this. If you prefer, you can copy and paste this version. If you do not publish a statement at least once it will be tactically allowing the use of your photos, as well as the information contained in the profile status updates. DO NOT SHARE. Copy and paste.
And here is another variation that was apparently spawned by the arrival of the Coronavirus pandemic:
"In the commotion around Covid 19, remember the new Facebook rule starts tomorrow where they can use your photos. Don't forget the deadline is today! This could be used in lawsuits against you. Everything you've ever posted is posted today – even messages that have been deleted. It doesn't cost anything, just copy and post, better than regretting later.
I DO NOT ALLOW Facebook or any other Facebook related person to use my photos, information, messages or messages, both in the past and in the future. This statement I inform Facebook that it is strictly prohibited to disclose, copy, distribute or take any other action against me based on this account and / or its contents. This account content is private and confidential information. Violation of my personal life may be punished by law.
NOTE: Facebook is now a public organization. All participants should post a note like this.
If you prefer, you can copy and paste this version. If you don't publish a discharge at least once, you'll automatically allow the use of your photos, as well as the information contained in your account status updates. NOT ′′ share ′′ but ′′ copy + paste "!
Their new algorithm is chosen by the same people – about 25 who will read your posts.
Consequently: Hold your finger anywhere in this post and a copy will appear. Click on Copy. Then go to your page, start a new post and place your finger in an empty field. ′′ Insert ′′ will appear and you will click on it.
This will pass the system.
I'm not giving Facebook permission to share my information posted on their website. PHOTOS, CURRENT or PAST, PUBLICATION, PHONE NUMBER OR POST… Absolutely nothing can be used in any form without my written permission."
In a nutshell, these and all similar posts are nothing more than hoaxes, and it's easy to understand why when you consider the following:
1 – Facebook would never make such a drastic change to their users' privacy settings without letting them know about it with an official policy/TOS update since doing so would alienate a huge portion of their users.
2 – Even if Facebook were to make such a change, you wouldn't be able to "opt out" of the change simply by posting some semi-legalistic gobblygook to your Timeline.
Facebook's "Terms of Service" are what they are, and we all agree to them by continuing to use the service. Neither I nor you can unilaterally change something in the TOS simply by posting something on our Timelines.
Bottom line: Like many other Facebook scams, the "Deadline Tomorrow" hoax is more irritating than dangerous.
But that being said, ignoring it when you see it could help it fade into oblivion a little faster than it would had you shared it. What's more, ignoring it will help keep it from cluttering up your friends' news feeds.
---