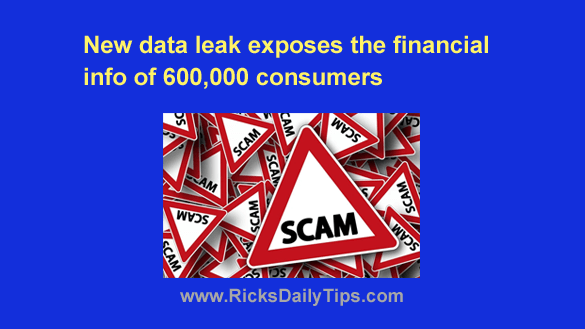 Data breaches and exploits are nothing new to the online world.
In fact, it seems like they happen every day.
As reported by our friends at BleepingComputer, this latest massive data leak has a strange twist to it.
Apparently several groups that traffic in stolen credit card and banking information on the dark web are exposing the info in each others' databases in some sort of weird retribution spree.
These actions have resulted in the credit card and banking info of 600,000 consumers being leaked onto the open web.
There are other factors involved in this latest leak as well, but the details aren't really as important as taking steps to mitigate the damage if it turn out you were one of the affected consumers.
This is what I recommend that you do… 
First, check here to see if your email address or phone number is contained in the massive "Have I been pawned?" database of compromised info.
If your email address and/or phone number is found via the search that means your data has likely been compromised.
If neither of them are found that means your data probably wasn't included in this latest leak.
If you do find that your data has been compromised you need to take the following steps right away:
1 – Change the passwords to your online accounts (especially your banking and credit-related accounts).
2 – If you haven't done so already, enable Two-Factor Authentication (2FA) on every account that supports it (which should be most all of them nowadays).
You'll find the setting to enable 2FA in the "Security" sections of the websites' Settings screens.
Just log into each of your accounts in turn and open the Settings screens, then look for an "Enable Two-Factor Authentication" or "Enable Two-Step Verification" setting.
3 – Keep a close eye on your credit reports to make sure your identity hasn't been stolen and used to open fraudulent accounts in your name.
This page on the Federal Trade Commission (FTC) website explains how to request your credit report for free (per federal law you're entitled to one free credit report per year per).
Bottom line: The data breaches and leaks just never seem to stop. That's why we must all remain vigilant about protecting ourselves when shopping and banking online.
Even if your email address and phone number didn't come up in a search of the Have I been pawned? database, it would still be a good idea to bookmark that site and check it periodically. Just sayin'.
---
Never miss a tip!  Click here to sign up for my free Daily Tech Tips Email Newsletter!