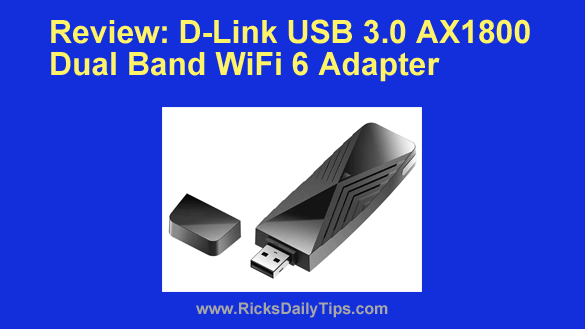 Note: The links in this post are affiliate links.
WiFi 6 offers several important improvements over the earlier 802.11 b/g/n/ac generations of WiFi technology so I was eager to give this D-Link USB 3.0 AX1800 Dual Band WiFi 6 Adapter a try as soon as I found out it was available.
At first glance this appears to be the perfect USB WiFi adapter for most users because it supports both the enhanced WiFi 6 standard and the earlier generations of WiFi that I mentioned above.
As is typical for these types of USB adapters, installation was literally as simple as plugging it into a computer's empty USB (Type-A) port. You don't have to install any drivers or configure any settings. Just plug it in and it's ready to go.
I did my testing with two different desktop PCs (both equipped with USB 3.0 ports) and two laptops (one with USB 3.0 and the other with USB 2.0.
The three routers used were:
1 – Xfinity XB7-T gateway with WiFi 6 enabled
2 – Netgear WNDR4500-100PAS N900 Dual Band Gigabit WiFi router
3 – TP-Link AC1900 Smart WiFi router
My goal was to see how well this new adapter performed with both the newer WiFi 6 standard as well as legacy routers that don't support WiFi 6.
What I found was the AX1800 performed exceptionally well with the XB7-T gateway with WiFi 6.
The download speeds received were simply amazing (which I had expected). Streaming video was flawless, even with multiple devices streaming at the same time.
However, I was very disappointed with the performance of the AX1800 when used with the two legacy routers regardless of the computer I was using to run the test.
Regardless of the configuration of router and computer, the AX1800 was measurably (and noticeably) slower than the N-class and AC class USB WiFi adapters I used in all tests except for when the XB7-T gateway was used. And as you might imagine, that was a huge surprise.
The WiFi connections established with the AX1800 were rock solid with no drop-outs, but the speed performance when used with the non-WiFi 6 routers left a lot to be desired.
Bottom line: If you have a router that supports WiFi 6 I don't believe you can go wrong with this adapter, especially if you plan to use it with a computer that's equipped with USB 3.0 (or later) ports.
However, I would recommend that you go with something else if you have an older N-class or AC-class router that doesn't support WiFi 6.
Click here to read more about the D-Link USB 3.0 AX1800 Dual Band WiFi 6 Adapter at Amazon.
---