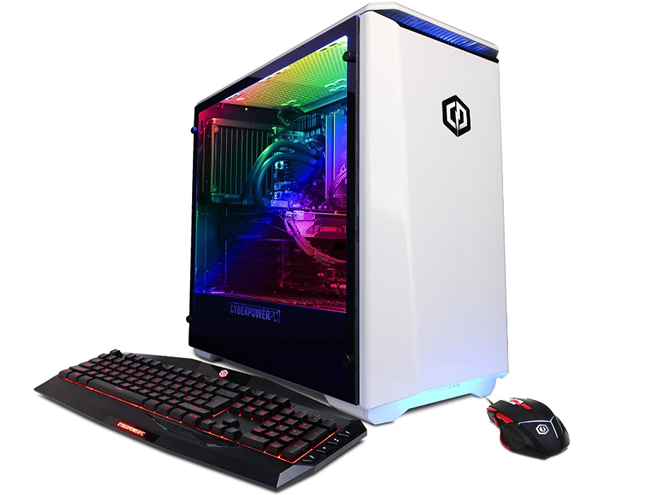 If you're shopping for a gaming PC you're probably looking for the fastest CPU, the most capable video card and the most RAM and hard drive storage you can get for your money.
Unfortunately, unless you have some pretty deep pockets you're probably not going to find a machine in your price range that comes with the very best in each of those categories.
The good news is there are a few gaming desktops to choose right now that come pretty close to perfection in terms of performance, yet are still well within a serious gamer's budget.
I recently had the opportunity to check out a CyberPowerPC Liquid Cooled SLC8600A Desktop Gaming PC, and I believe it definitely falls into that category.
The specs on this machine are impressive, to say the least: 
Blazing fast Intel i7-7700K 4.2GHz Kaby Lake CPU with Liquid Cooling
NVIDIA GTX 1080 Ti video card with 11GB of dedicated video RAM
DVI, HDMI, and DisplayPort connectors
32GB of DDR4 RAM
240GB SSD boot drive
3TB 7200RPM hard drive for mass storage
802.11AC Wi-Fi
RJ-45 Gigabit Wired Ethernet connector
Audio 7.1 Sound
6 USB 3.1 ports / 2 USB 2.0 ports
Gaming Keyboard and Gaming Mouse
Gaming case with tempered glass side panel
Windows 10 Home 64bit
1 Year Parts & Labor Warranty
As you can see, the specs alone for this baby are enough to make any gamer drool.
And this machine is no lightweight in the physical sense either. In fact, it weighs in at a whopping 32 pounds, which is a testament to its rugged construction.
The Windows 10 installation boots from a super-fast 240GB SSD with plenty of room left over for a couple of your favorite games. Everything else should easily fit on the speedy 3GB 7200RPM hard drive.
I already knew what was inside this machine before I turned it on, but I was still blown away by the amazingly fast boot time.
I've seen what an SSD and top-of-the-line processor can do for a gaming PC many times in the past, but I wasn't prepared for what I saw after I pressed the power button on this one. Truly amazing!
My test machine was plugged into a ASUS PB287Q 28″ 4K monitor, and even with the resolution bumped all the way up to 4K it managed to hit 112 fps on four demanding games (including Fallout 4).
I also spent some time visiting several multi-media intensive websites and streaming 4K video from Netflix and Youtube, and the performance was impeccable.
Bottom line: Overall, I was very impressed with this machine. If you're looking for a top-of-the-line gaming desktop that's still within a serious gamer's budget, this gem from CyberPower PC is well worth a hard look.
---
If you think your friends would like this post, I'd love you to share it! Thanks a bunch!