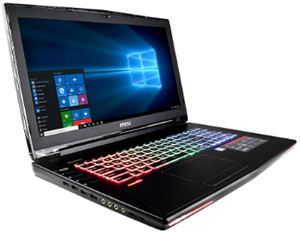 Gaming laptops are getting more powerful all the time, even as their prices continue to drop.
A perfect case in point is the awesome new CUK MSI GT72VR Dominator Virtual Reality Gaming Laptop.
To be blunt and straight-to-the-point, this machine has just about everything a serious gamer could want in a laptop. It's even VR-ready right out of the box!
This is quite simply one powerhouse of a machine. Let's take a quick look at the specs: 
17.3-inch Full HD Display (1920 x 1080)
NVIDIA Geforce GTX 1060 Graphics with 6GB Dedicated GDDR5 Graphics RAM
1 HDMI 1.4 Port and 2 Mini Display Ports
Intel Core i7-6700HQ Quad Core CPU
32GB DDR4 2133MHz DDR RAM
500GB Solid State Drive (SSD)
2TB Hard Drive
SuperMulti 8X DVD+/-R/RW Dual Layer Optical Drive
Steel Series Backlit Keyboard
Dyanudio High Fidelity Audio System for Superb Sound While Gaming
802.11 AC Wi-FI
Bluetooth 4.1
6 USB 3.0 Ports
1 USB 3.1 Type C Port
Windows 10 (64 bit)
Weight: 8.3 Pounds (Yikes!)
As you can see, this is one of the most powerful gaming laptops you're likely to find in its price range.
Check out this larger frontal view: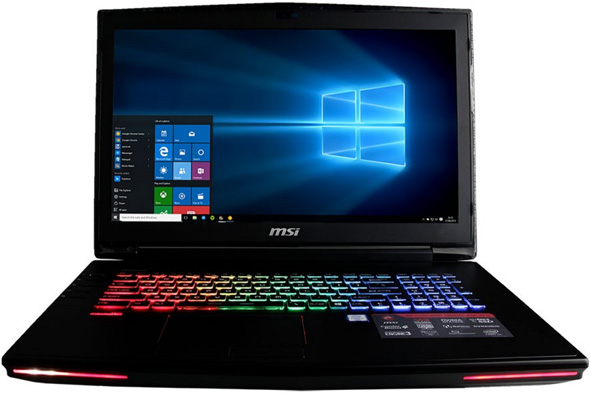 There is one downside to all this amazing hardware: As laptops go, it's pretty heavy.
Yes, you can certainly carry it around with you, but it won't be like you're carrying around a lightweight entry-level or mid-range laptop. And if you're like me and you have a bad back, you might be better off looking for something that's a bit lighter.
That being said, you'll get plenty of gaming awesomeness out of this machine. More than enough to compensate you for carrying around the extra pounds in my humble opinion.
One of my biggest disappointments with typical gaming laptops is the unbelievable amount of heat they tend to generate when in full heavy-duty gaming mode.
This beauty doesn't have that problem as far as I can tell, probably due to its fantastic "Cooler Boost 4" thermal mitigation system (that's a fancy way of saying it's made to run cooler than other gaming laptops).
Bottom line: If you don't like carrying around a laptop that weighs almost as much as a small desktop PC, this likely isn't the gaming machine for you. If however you don't mind the weight and you want a TON of computing (and gaming) power for a reasonable price, I don't think you'll beat this awesome machine from Cuk MSI.
---
If you think your friends would like this post, I'd love you to share it! Thanks a bunch!