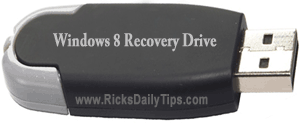 If you have ever used Windows 7 you probably remember creating a System Repair Disc soon after setting up your new PC just in case it ever failed to boot up properly. You can create one for your Windows 8 PC as well, but you also have the option of creating a bootable USB Flash Recovery Drive instead.
You can use either a System Repair Disc or USB Recovery Flash Drive to boot a PC that fails to start up properly into an emergency troubleshooting and repair mode. They both do the job equally well, but I prefer the USB flash drive option for a number of reasons. If you do as well, here's how to create one in Windows 8: 
1 – Insert a USB flash drive (256MB or larger) into one of your PC's USB ports. I would recommend using a flash drive that holds at least 4GB in order to have room for several optional third-party Windows utilities that you can download from the web. You'll find a number of great choices by clicking the Free Downloads link at the top of this page.
2 – Type the words Recovery Drive onto any blank section of the Windows 8 Start Screen.
3 – A set of search results will appear. Click on Settings.
4 – Click on Create a recovery drive. If a User Account Control prompt appears, click Yes.
5 – Check the box beside Copy the recovery partition from the PC to the recovery drive.
6 – Click Next.
7 – Select the USB flash drive that you wish to use for your recovery drive, then click Next.
Note: I recommend having only one flash drive plugged into the PC while performing these steps in order to eliminate any possibility of confusion. The flash drive will be formatted so anything stored on it will be lost.
8 – Click on the Create button.
9 – After you see the message informing you that the recovery drive has been created, click Finish.
10 – Label your new USB Recovery Flash Drive as such and store it in a safe place just in case you need it some day. Hopefully you won't, but hey, this is Microsoft Windows that we're dealing with.
Important: It is best to already have your recovery drive created and ready to use when disaster strikes, but you can always use a different Windows 8 PC that is running the same version (either 32 bit or 64 bit) to create one if you have to. Just be sure to skip step 5 above so that you can use the recovery partition stored on your PC's hard drive to perform the recovery instead of one copied from the other PC.