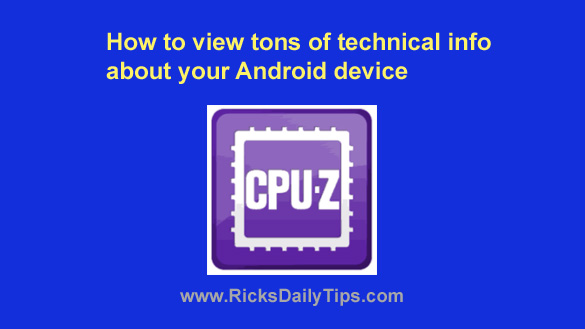 A while back I told you about a great free program called Speccy that lists pretty much every technical detail there is about your PC.
If you have even a passing interest in what hardware and software is inside your computer's case, you need to download Speccy today.
If you have that same curiosity about what's inside your Android phone or tablet, a wonderful free app called CPU-Z will tell you. 
Just download CPU-Z from the Google Play Store and install it, then run it to learn pretty much everything there is to know about the innards of your Android device.
Here are some of the interesting tidbits you'll learn about your Android device after running CPU-Z:
Which version of the O.S. kernel your device is running
ISP and network connectivity information
Details about your device's memory (including a bunch of interesting stats about memory usage)
3G/4G/5G network information (including your phone's IP address)
Display size and resolution (in pixels)
As you can see, CPU-Z provides plenty of details about your Android device's hardware and operating system.
If you'd like to give it a try you'll find it in the Google Play Store. Just type CPUZ into the search box and it'll come right up!
Bonus tip: Keep your Android phone or tablet virus-free with a free app called AVG for Android.
---