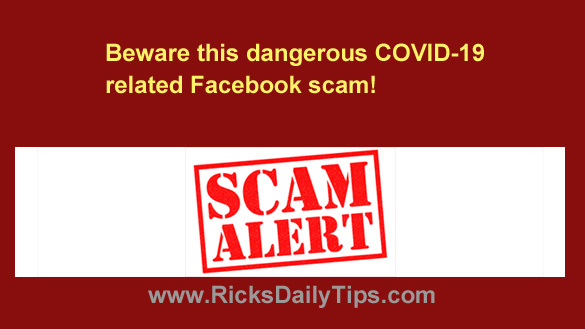 The Coronavirus pandemic has left millions of folks looking for new ways to make up for lost income.
Unfortunately, that presents an opportunity for crooks and scammers to make a few extra bucks as well.
The latest scam to hit the Facebook world is targeting people who could use a little financial help at this difficult point in time – which of course is pretty much everyone.
As usual, the messages associated with this scam vary a bit in their wording but here's the gist of how it works so you'll know what to look out for…
You receive a message from one of your Facebook friends informing you that you qualify for a "COVID-19 Relief Grant".
The amount of the supposed grant varies, but most of the messages say the amount is $1,000. And who couldn't use an extra $1,000 right now, right?
The problem is the message is a fake and the "friend" that sent it to you isn't your friend at all.
He/she is actually a scammer who either hacked your real friend's Facebook account or created a new fake account in their name by cloning the real one.
Depending on the variation you receive, the scam message will include instructions for you to either visit a fraudulent website or reply to the scammer's email address to apply for the grant.
If you take the bait and visit the fraudulent website or email the scammer directly you'll be instructed to provide your personal information AND pay an up-front "processing fee".
If you hand over the requested information and pay the "fee" the scammer will end up with enough info to assume your identity AND you'll be out the cash you sent them.
Even worse, if you paid the "fee" with a credit/debit card or bank transfer instead of using PayPal the scammer will also have your card info or bank account number which they can potentially use to completely clean out your account.
As you can see, this is a very serious and extremely dangerous scam.
If you receive one of these scam "COVID-19 Relief Grant" messages you should do the following:
1 – Don't click any links or respond to any email addresses listed in the message.
2 – If the Facebook account that sent the message appears to be your friend's real account, try to contact your friend by some other method to let them know their account has likely been hacked.
Don't simply send them an IM or your message will likely be received by the hacker instead of your friend.
If the sender's Facebook account appears to be a clone of your friend's real account, send an IM to the real account letting them know about the fake one. Then both you and your friend can report the fake account and have it removed.
Bottom line: While there are probably some legitimate COVID-19 grants out there for those who qualify, you won't be finding out about them on Facebook/Messenger via an IM.
Therefore, if you receive an IM claiming you qualify for a grant you can rest assured that you're being scammed.
Bonus tip #1: Click here to read about several other dangerous scams and irritating hoaxes that are making the rounds right now.
Bonus tip #2: Want to make sure you never miss one of my tips? It's easy! Just…
Click here to sign up for my free Rick's Daily Tips Email Newsletter!
---
Would you like to ask Rick a tech question? If so, click here and send it in!
If you found this post useful, would you mind helping me out by sharing it? Just click one of the handy social media sharing buttons below. Thanks a bunch!