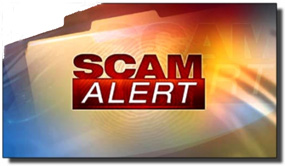 As you surely know, the Coronavirus pandemic has already caused a lot of financial pain for millions of Americans.
And unfortunately things are likely to get even worse before they get any better.
To help ease the pain for the American people, the US Congress has passed and President Trump has signed a massive $2 trillion economic stimulus bill that includes a provision to provide cash payments to most Americans.
These "stimulus payments' will be greatly appreciated by the folks who are suffering the most from the economy's screeching halt, but as you might expect the scammers of the world are already hard at work trying to get their own piece of the stimulus pie.
There are currently dozens of stimulus related scams being perpetrated. Here are just a few of the most common ones:
1 – The scammer will call you on the phone and claim to be a government representative who's trying to get your stimulus money to you. All he needs is your personal information and bank account number so Uncle Sam can "direct deposit" your check into it.
2 – The scammer will send you an email asking you to visit a fake, but realistic-looking government website where you'll be asked to enter your personal info and bank account number.
3 – The scammer will send you an official-looking, but fake letter via the postal mail directing you to a fake website.
And now for one that's a bit more scummy than scammy…
4 – An unethical merchant will mail you what appears to be your stimulus check, but it's actually a highly deceptive advertisement directing you to call a phone number or even visit a specific physical location to "cash the check".
When you place the call or visit the designated place the merchant will try to sell you a car or some other high dollar item (depending on the nature of that business).
As I mentioned above, these are just the most common forms of the scam. There are many other forms going around as well.
Regardless of how the scammers contact you, their goal will be the same. They want to trick you into handing over your personal information and bank account number so they can steal your identity and attempt to steal whatever money happens to be in your bank account.
What's more, they'll even take your real stimulus money just as soon as it lands in your account!
This is why you need to be extremely careful and due your own due diligence before responding to ANY correspondence of any kind from someone claiming to try to help you receive your stimulus payment.
Bottom line: If you receive an email like the ones mentioned above you can rest assured that it's definitely a scam.
If you receive a phone call you can also safely assume it's a scam because the chances that government reps will call millions of Americans out of the blue asking for their personal and financial info are absolutely nil.
And finally, if you receive what appears to be a legitimate paper check, take it to your bank and ask them to very it's validity.
DON'T try to cash that check at a check cashing center, a retail store or any other non-bank location because those reps might not have the skills and tools required to thoroughly vet the check to make sure it's real. And believe me, the scammers are better than ever at producing checks that look like the real deal.
Always assume that anything you receive in regards to a government stimulus payment is fraudulent until you have thoroughly checked it out. Otherwise you could end up losing the money you already have AND the stimulus money the government is going to send you.
Bonus tip #1: Click here to read about several other dangerous scams and irritating hoaxes that are currently making the rounds.
Bonus tip #2: Want to make sure you never miss one of my tips? It's easy! Just…
Click here to sign up for my free Rick's Daily Tips Email Newsletter!
---
Would you like to ask Rick a tech question? If so, click here and send it in!
If you found this post useful, would you mind helping me out by sharing it? Just click one of the handy social media sharing buttons below. Thanks a bunch!