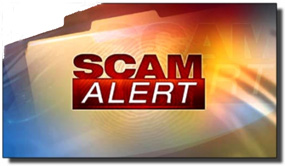 As you probably know, there's a new virus making the rounds at the moment that has the entire world on edge.
This one is a real virus, not the digital kind that we're all so familiar with these days.
Apparently this new "Coronavirus" has the potential to spread quickly, and unfortunately it can be fatal in patients that have one or more underlying medical conditions.
Luckily, there are several things you can do to help prevent you and/or your loved ones from catching this virus:
1 – Wash your hands at every opportunity (and encourage those around you to do the same).
2 – Cover your mouth when you cough (and encourage those around you to do the same).
3 – Avoid places where groups of people tend to cluster into small enclosed areas.
4 – If at all possible, stay away from airplanes, buses, passenger trains and cruise ships.
As is typically the case, the panic surrounding the Coronavirus outbreak has brought the scammers out of the woodwork once again via a new and very dangerous email scam.
In a nutshell, the scammers are flooding the world's inboxes with emails offering to sell the recipients a box of "Coronavirus masks" to protect against catching the virus.
As you might expect, one (or more) of the following things are virtually guaranteed to happen if you click on a link in one of these emails:
1 – The link will take you to a malicious web page that will download malware onto your computer or mobile device.
2 – You'll enter your personal info and credit card info into a malicious web form that effectively hands that extremely sensitive info over to the scammers.
3 – You'll pay for a box of masks that will never arrive.
I have written about the dangers of clicking links in unsolicited emails many times in the past, but this particular scam makes it even more dangerous simply due to all the panic over the virus.
Bottom line: If you desire to purchase masks for protection against the Coronavirus I strongly recommend that you only deal with reputable companies and avoid these scam emails like the plagues that they are.
And just so you know, it's probably a bad idea to even wear a mask according to the Centers for Disease Control (CDC) and many other health and medical professionals.
Bonus tip #1: Click here to read about several other scams and hoaxes that are currently making the rounds.
Bonus tip #2: Want to make sure you never miss one of my tips? It's easy! Just…
Click here to sign up for my free Rick's Daily Tips Email Newsletter!
---
Would you like to ask Rick a tech question? If so, click here and send it in!
If you found this post useful, would you mind helping me out by sharing it? Just click one of the handy social media sharing buttons below. Thanks a bunch!