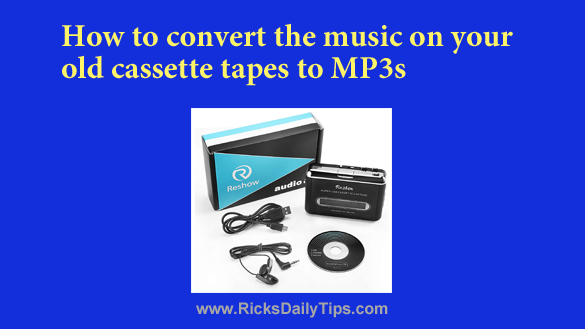 Note: The links in this post are affiliate links.
Do you have a stack of old cassette tapes that you never listen to anymore because you have moved on to the digital world?
If so, there's a very easy way to convert all of those great nostalgic songs to MP3s so you can listen to them on your smart phone, MP3 player, PC or Mac.
What's more, it'll only cost about what you'd pay for a good pizza.
The Reshow Portable Cassette Tape Player and audacity software on your computer will quickly convert the songs on your cassette tapes to MP3s and transfer them directly to the computer via the included USB cable .
Once your MP3s are on the computer you'll be able to transfer them to any of your digital devices for easy listening at any time.
By the way, even though the manufacturer only says this will work with Windows PCs, it also works with Macs. All you have to do is download and install the free Audacity for Mac software and you'll be ready to go.
Bottom line: You don't have to ignore all of that great old nostalgic music that's stored on your now-obsolete cassette tapes. Now you can easily listen to it on your digital devices!
Click here to read more about the Reshow Portable Cassette Tape Player at Amazon.
---