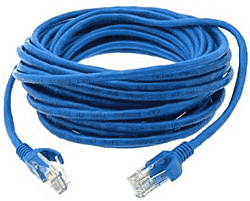 Question from David S.:  Hi Rick. I hope you can give me some advice about a networking issue.
My cable modem is located in my living room but my computer is in the bedroom. I'd like your recommendation on the best way to connect them.
I have decided that I'd rather not use Wi-Fi, so is there any way to connect the computer to the modem without using a router?
Rick's answer:  You sure can David, and you can choose one of two ways to do it:
1 – First I'll start with a dirt-cheap option (typically $10-$15) that will require a little work on your part. Simply purchase an Ethernet cable
that's long enough to go from the PC to the modem.
You'll have to figure out a way to run the cable between the two rooms. You can either drill a small hole in a corner of the ceiling in both rooms and drop the cable down from the attic or get fancy and actually run the cable through the inside walls and up into the attic. Whatever works for you.
This post explains how I ran a 100 foot Ethernet cable from my office out to my garage. It will give you an idea of what I'm talking about.
2 – This option will cost you a bit more ($40 and up) but you can have your computer connected to the modem in minutes after receiving the package.
Simply purchase a pair of powerline networking adapters
and plug them into outlets near the PC and modem. You won't have to run any wires between the rooms and there is nothing to configure. Simply plug them in and the connection is made!
The two options listed above will get your PC online without having to use a wireless router, but are you really sure you want to skip the router? That's fine if you do, but there are some things that I think you should consider before making your final decision:
1 – A router that works as a hardware firewall can help enhance the security of your PC and safeguard your identity while you're online. In my opinion, that's a big deal in today's world of hackers and identity theft.
2 – Creating a wireless network would allow you to connect your smart phone, tablet and other Wi-Fi capable devices to the Internet (and to each other) without having to use your cell carrier's data plan.
3 – The new AC class routers
on the market today are blazing fast, very secure, and quite affordable after the recent price drops.
I'm not trying to talk you out of your decision David, just let you know that you do have options. Good luck!
Bonus tip: Want to make sure you never miss one of my tips? Click here to join my Rick's Tech Tips Facebook Group.
Not into Facebook? Then click here to join my LinkedIn Tech Tips Group instead!
Note: The links in this post are affiliate links.
---
Want to ask Rick a tech question? Click here and send it in!
If you found this post useful, would you mind helping me out by sharing it? Just click one of the handy social media sharing buttons below.