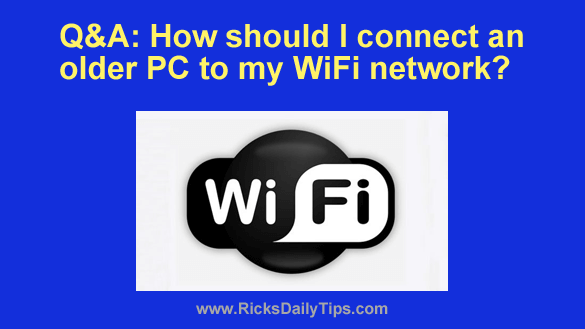 Note: The links in this post are affiliate links.
Question from Taylor:  I recently bought a refurbished Dell OptiPlex 9020-SFF and I really like it after using for a while.
I know there are faster computers out there, but this is actually the fastest one I have ever owned.
My question is what's the best way to add WiFi to this machine? 
It has an open PCIe x16 slot so I could add an internal WiFi adapter card if you think that's the best way to go, but I'd rather use a USB WiFi adapter if that'll work just as good.
What's your opinion about that? (Which one would you use if this was your computer?)
And can you give me a recommendation for the best device to buy? I'm really more interested in reliability than speed since my DLS connection is capped at 20Mbps.
Rick's answer: Taylor, if you had asked me this question just a few years ago I would have recommended that you go with an internal WiFi adapter card because the USB WiFi adapters of the day were a notoriously unreliable.
However, that has now changed. Most of the USB WiFi adapters being sold today are just as reliable as their internal counterparts, and they are much easier to install and replace if a replacement ever becomes necessary.
Literally all you have to do is plug it in to an empty USB port!
One thing I would caution you about is selecting the right USB port to plug the device into.
Your OptiPlex 9020-SFF has both USB 2.0 and USB 3.0 ports on it. Make sure you plug the WiFi adapter into an open USB 3.0 port (preferably on the rear of the machine instead of the front).
Note: The USB 3.0 ports are the ones with the blue connectors.
Now that we have the first question out of the way, you also asked me to recommend a specific device for you to buy.
Well, I really like this one. I've been recommending this adapter for a couple of years now and I've always received nothing but positive feedback about it.
It's truly an outstanding device, and as you can see it's quite inexpensive. I believe it'll do a great job for you.
I hope this helps, Taylor. Good luck!
Bonus tip: This post offers 9 practical tips for extending the range, speed and security of your wireless WiFi network.
---