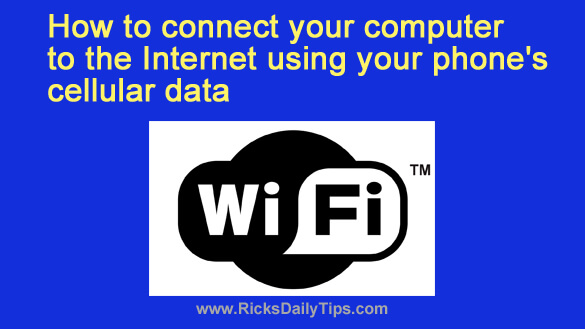 Does your Internet service occasionally go out due to storms or equipment failure?
If so, you know how irritating it can be when you have to wait for a tech to come out and restore your service.
But guess what? In a pinch, you can use your smartphone's cellular data connection to access the Internet with your computer. 
Both Android phones and iPhones have a feature called tethering that allows you to essentially use your phone as a modem and your cellular provider as an ISP for your computer(s) and other devices.
Not all cellular data plans allow you to set up a tethered Wi-Fi connection with your phone, but if yours doesn't you can probably add that option to your plan for a reasonble amount.
Once you have confirmed that your plan indeed supports tethering, simply follow the steps below to set up a tethered Wi-Fi hotspot with your phone. Just follow the procedure that matches the device you have.

If you have an Android phone:
1 – Tap the Settings icon (it looks like a "gear").
2 – Tap Network & Internet.
3 – Tap Advanced.
4 – Tap Hotspot & tethering.
5 – Tap Wi-Fi hotspot.
6 – Toggle the setting to On.
7 – Use the settings on the current screen to assign your hotspot a name and password.

If you have an iPhone:
1 – Tap the Settings icon (it looks like a "gear").
2 – Tap Cellular.
3 – Tap Personal Hotspot or Settings.
4 – Tap Personal Hotspot.
5 – If it isn't on already, toggle the "Allow others to Join" setting to On.
6 – Choose a password for the new hotspot.

That's all there is to it. You should now be able to connect your computer (and other devices) to the Internet via the Wi-Fi hotspot you just created. Simply connect to that network and enter the password.

There's a huge caveat I should mention at this point…
If you have a cellular data plan with a data cap, using a desktop browser that loads the full versions of websites instead of the mobile versions can potentially burn through your monthly data allotment in a hurry.
Of course this won't be an issue if you have an unlimited data plan that's truly unlimited (with no data cap or high-speed threshold), but not all "unlimited" plans are truly unlimited.
Some "unlimited" plans will throttle your download speeds back into dial-up range after you've reached a certain data threshold. As you can imagine, that greatly impacts the user experience (no more streaming and very slow page loads, for example).
Just something to be aware of before you start using your phone's cellular data to connect your computer to the web.
---