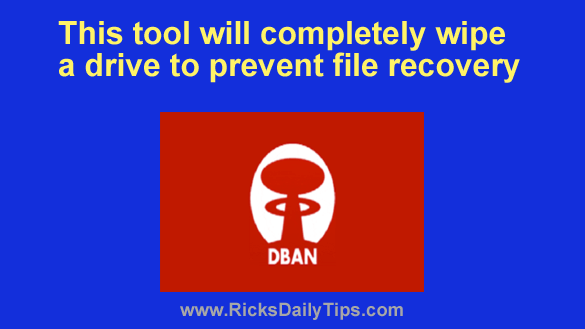 Due to security concerns about data theft and identity theft, it's important to completely erase a hard disk before giving it away, selling it, or even tossing it in the trash.
The thing is, simply erasing a bunch of files doesn't actually remove those files from the hard drive.
It merely deletes the pointers that Windows uses to identify and locate the deleted files. 
That means if a hacker somehow ends up with the drive he can use a file recovery tool to recover the files you thought you had deleted forever.
In short, you need to completely wipe the entire drive in order to fully protect the files and info that's stored on it from being recovered by a hacker.
Luckily, there are tools out there that will completely wipe out all traces of the files that are stored on a drive.
There are several of these tools to choose from, but I use and recommend is the excellent Darik's Boot and Nuke (DBAN for short).
When you run DBAN on a drive it completely wipes it clean of all the data that was stored on it via a method that's about as secure as you'll find without paying big bucks for a pro-quality drive wiping tool.
You can download DBAN directly from OlderGeeks.
Columbia University has written this excellent guide for creating a bootable USB flash drive or bootable CD for DBAN and then using it to wipe a drive.
And now, one last tip…
If you plan to simply trash the drive you can do what I do to completely "wipe" it: Destroy it with a hammer!
Simply cover the drive with a towel or some other covering to prevent shrapnel from flying all over the place, the beat the drive totally flat with a heavy hammer.
Easy, quick and effective!
---