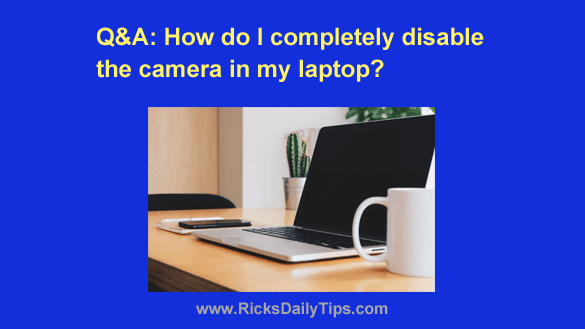 Question from Callie:  I bought a new Acer laptop that has a camera built into it.
I don't ever plan to use the camera for anything and I'd like to completely disable it.
Everything I've read so far just explains how to prevent apps from accessing the camera, but I'm wanting to disable it completely.
Can you tell me how to do that? Right now I have it covered with masking tape and it looks awful!
Rick's answer:  I can certainly understand why you'd want to completely disable your laptop's built-in camera, Callie.
Since you have no plans to ever use the camera there's really no reason to leave it enabled.
Luckily, there's a fairly straight-forward way to disable many of the hardware devices in a Windows 10 machine, and that includes a built-in camera.
Just follow the steps below to disable the camera in your laptop:
1 – Press the Windows key to open the Start Menu.
2 – Type the words device manager and select Device Manager from the list of search results that pops up.
3 – Click the arrow beside the word Cameras to expand that line.
4 – Right-click on the camera that listed there and select Disable from the drop-down menu.
5 – Click the X in the top-right corner of the Device Manager window to close it.
That's all there is to it. Your laptop's camera should now be completely disabled. That means no app (or hacker) should be able to snap photos of you or anything else using the camera.
Now you can safely remove that ugly piece of masking tape!
By the way, you can use the Device Manager to disable many other types of connected devices in addition to the camera.
Now, after all of that, there is one caveat that I must mention…
Like its predecessors, Windows 10 has a nasty habit of taking it upon itself to re-enable some hardware devices that have been disabled via the Device Manager, usually upon Startup or when the machine is Restarted manually.
The next time the machine is Restarted you might want to go into the Device Manager and check to make sure the camera is still disabled.
If it is you should be in the clear. If not, you'll need to disable it again an make the quick check every time you Start (or rRestart) the laptop.
I hope this helps, Callie. Good luck!
Update from Callie:  Thanks for your help, Rick. I knew you'd have the answer!
---
Never miss a tip!  Click here to sign up for my free Daily Tech Tips Email Newsletter!