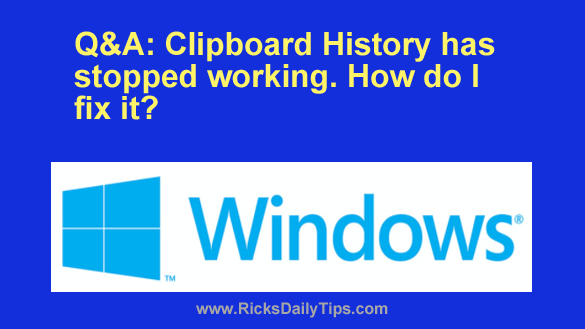 Question from Kyle: I used the Clipboard History for a while with no problems whatsoever, but the last round of Windows Updates broke it.
Now when I press the Windows+V key nothing happens. The box with the stored Clipboard items doesn't even pop up.
How can I fix this? 
Rick's answer: I know what you mean about loving Windows' Clipboard History feature, Kyle. I'm a huge fan myself!
Unfortunately, the last round of Windows Updates indeed caused an issue that prevents Clipboard History from launching properly when summoned with the Windows+V key combination on some machines.
Hopefully Microsoft will fix this problem with the next round of updates, but in the meantime there's an easy fix that seems to work for the vast majority of users.
Give the procedure below a try and see how it works out for you:
1 – Right-click on the Taskbar and select Task Manager from the menu that pops up.
2 – If it isn't selected already, select the Processes tab.
3 – Scroll down until you see the Windows Explorer tab.
4 – Right-click on Windows Explorer, then click Restart.
That's all there is to it. After Windows Explorer finishes restarting and your Desktop is back to normal you should (hopefully) find that your Clipboard History feature is working again.
I hope this helps, Kyle. Good luck!
Update from Kyle:  That worked, Rick. Thanks a lot!
---