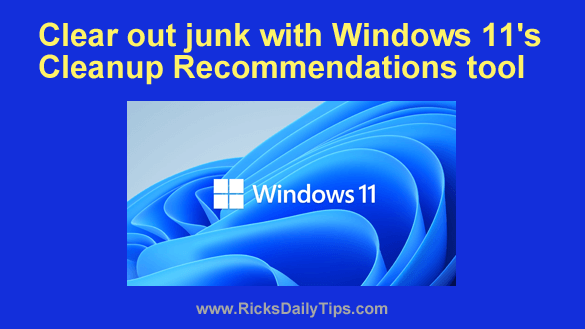 As you probably know, Windows PCs tend to accumulate tons of "junk" that takes up valuable storage space on your machine's hard drive or SSD.
There are numerous "system cleanup" apps that will clear this junk out for you, but Windows 11 now has it's own native tool for this. It's called "Cleanup Recommendations" and it's very easy to use. 
In nutshell, the Cleanup Recommendations tool will give you a list of several categories of files that are no longer needed and let you choose which of those files you want to remove.
It'll even tell you which apps you rarely use and give you the option to remove those as well.
Like I said above, this tool is very easy to use. This short video shows how, step-by-step.
Note: You can watch this video at full screen by clicking the little "square" icon in the lower-right corner of the video after it begins playing.
Do you prefer following written instructions? Here you go…
1 – Right-click the Start button and select Settings from the menu.
2 – In the left-hand pane, click System.
3 – In the right-hand pane, click Storage.
4 – Find the "Storage management" section and click Cleanup recommendations. You should now see several categories of files and rarely used apps that Windows is recommending that you delete.
5 – Click the down arrow for each category and check the items you wish to remove, then click the Clean up xx bytes button.
That's all there is to it. All the unneeded files and apps you selected for removal should now be gone.
---