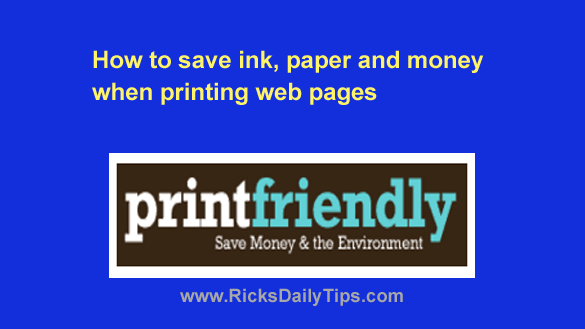 Do you print a lot of web pages?
If so, you know how much expensive ink and paper gets wasted by printing website headers, sidebars, irrelevant images and other items that really have no connection whatsoever with the content you actually want to print.
A free print tool called PrintFriendly will let you print only the items on the page that you really wish to print while omitting the rest.
It  works great, it's extremely easy to use, and it's free. What could be better than that?
PrintFriendly lets you de-select unwanted images, text, and even entire sections of the page an make lots of other changes to the page to ensure that the printed copy is exactly the way you want it.
Printing with PrintFriendly is easy…
Simply visit the PrintFriendly website and enter the URL of the page you wish to print. All of PrintFriendly's many options will be available to you right there on the spot!
To make it even easier to customize your web page printing jobs simply install the PrintFriendly extension on your web browser.
Here's a short video that shows PrintFriendly in action…
Note: You can watch this video at full screen by clicking the little "square" icon in the lower-right corner of the video after it begins playing.
Pretty awesome, right?
Bottom line: Now you don't have to print all the junk along with the actual content you want to print from the web pages you visit. Simply use PrintFriendly and your favorite web browser and leave all the unwanted clutter behind!


---