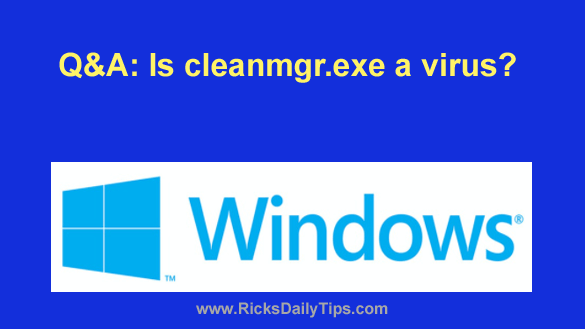 Question from Melinda:  I have a question about my Acer Windows laptop, Rick.
Yesterday morning I asked a friend on Facebook a computer question and his reply was that I need to run a file called cleanmgr.exe.
I'm a little leery about running .exe files because I remember reading that they can be dangerous.
Here's my question: Is cleanmgr.exe a virus or is it safe for me to run? And if it's safe, do you think I should run it? 
I've been reading your columns for a while and I trust your judgement.
Rick's answer: Thanks for your kind words, Melinda. It's always wonderful to hear kind feedback from my readers!
To answer your question, you're wise to be leery about about running .exe files, but this one happens to be completely safe.
In a nutshell, cleanmgr.exe is the executable file that springs into action every time you run the Disk Cleanup utility on your PC's hard drive.
I recommend that you run it about once a month to keep your computer's hard drive from getting cluttered up with temporary files and other unneeded junk.
Most people run Disk Cleanup like this:
1 – Open a "File Explorer" window by either double-clicking on the This PC icon or by pressing the Windows+E key combination.
2 – Right-click on the drive letter of the drive you want to remove the junk from. In most cases this will be the C: drive.
3 – Click Properties.
4 – Click the Disk Cleanup button and follow the prompts as they appear.
However, it's also possible to run Disk Cleanup from within a command prompt window, and that's apparently what your friend was referring to in his message.
Follow these steps to run Disk Cleanup from a command prompt:
1 – Click the Start button.
2 – Type cmd into the Search box.
3 – Right-click on Command Prompt, then click Run as administrator.
4 – Click Yes in response the to "User Account Control" dialog that pops up.
5 – Type cleanmgr.exe after the command prompt and then press the Enter key. The Disk Cleanup utility should appear on the screen.
6 – Select the drive you want to clear the junk from and then click Ok.
7 – Follow the prompts as they appear.
That's all there is to it. The Disk Cleanup tool will now remove all the types of junk that you selected from the drive.
I hope this helps, Melinda. Good luck!
---