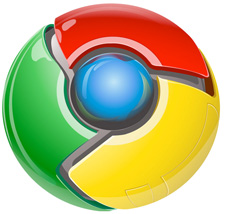 Question from Judy L: I've been using Google Chrome as my primary web browser for about 3 months now and I really like it. But a couple of days ago it started taking forever to begin loading a web page. What could be causing this?
Rick's answer: Judy, when you try loading a page, does it say "Resolving proxy" in the lower left-hand corner of the browser? If so (and I'm sure it probably does), something or someone has configured Chrome to access websites through a web proxy.
If you're the only person that uses this computer I'm guessing that your system has malware on it that initiated the change without your knowledge. The first thing you need to do is adjust the settings in Chrome to prevent it from using a web proxy. Here's how:
1 – Click the Menu icon in the upper right-hand corner of the screen (look for 3 horizontal lines stacked on top of one another).
2 – Click Settings.
3 – Click Show advanced settings.
4 – Scroll down to the "Network" section, then click Change proxy settings. This will cause a box containing the Proxy settings to pop up.
5 – Click LAN settings. Another box will pop up containing the LAN settings.
6 – Uncheck the box beside Automatically detect settings.
Here is a screenshot with the boxes what will pop up super-imposed on the main screen:
After you get Chrome's proxy settings squared away, make sure your anti-virus software is up to date (click the update button) and run a full system scan. When the scan is complete instruct the software to remove the threats. If you aren't running an anti-virus program, you'll find information about the free version of Bitdefender here. I use Bitdefender on all my PCs and highly recommend it.
Next, if you don't have it already, download and run Spybot Search and Destroy in order to find and remove any malware that your anti-virus software might have missed.
---
Do you have a tech question of your own for Rick? Click here and send it in!