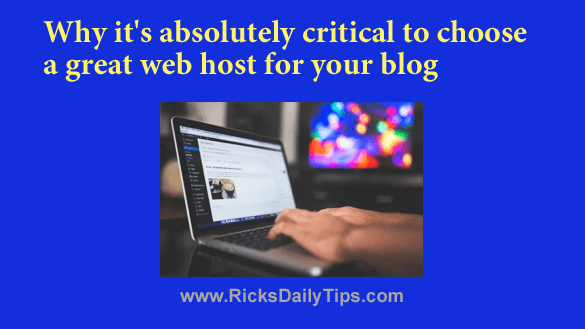 Click here to sign up for my free Rick's Tech Tips Newsletter!
---
There are a number of very important decisions that one must make when preparing to start a blog, and one of the most important of all is your choice of a web hosting company.
Many people when planning their first blog make the mistake of choosing a web host based on price alone, and this is a huge mistake.
Most hosting companies are within the same ball park when it comes to pricing the various tiers of hosting plans, but the quality and value of those plans can vary by a huge margin.
Choosing a mediocre or even bad web host just to save a buck or two per month will almost always come back to haunt you.
Here are a few things to consider when it comes time to choose a web host for your blog: 
1 – Up-Time – You can have a great looking blog with the best content there is in your niche, but if no one can get to your site because your server is down all of your hard work will have been pointless. Virtually all hosting companies will advertise up-times that approach 100%, but how do you know if they're telling you the truth?
The easiest way to find out how reliable a company is at keeping its servers online is to visit a couple of the popular webmaster forums and see what present and past customers have to say about it. You'll get accurate info straight from the people who know exactly what's going on. One of my favorites is WebHostingTalk.
2 – Sites per Shared Server – Some web hosts pack as many customer websites onto a single server as possible, making all of those sites compete for a limited amount of resources. This results in sites that load slowly at best, and servers that crash frequently at worst.
There's nothing worse than having your blog's visitors have to sit and look at a little spinning circle while your pages attempt to load.
Well, actually there is something worse – or at least just as bad. When the search engines try to crawl and index your site only to have the server time out on a regular basis, that sends a signal of a poor quality site
It makes no difference how great your content actually is. If the search engines have trouble accessing it in a timely fashion, your blog's placement in the search results will suffer. Google for instance is now factoring page load speed into their ranking algorithm!
3 – Software -Another important thing to consider when choosing a web host is the software they have running on their servers. In my opinion, any host worth considering should offer CPANEL as a Control Panel option and something like Fantastico (a set of scripts that automatically installs WordPress and a bunch of other platforms on your behalf).
They should also be running the latest versions of everything that's running on their servers. There's nothing worse than having your blog hacked because your server is running outdated, insecure software.
4 – Tech Support – Let's face it, if you run a blog there will be times when you need help with a problem, and if that problem involves an inaccessible website then getting the help you need in a timely fashion is absolutely critical.
When I created my first stand-alone website way back in 2002, I made the mistake of choosing the cheapest hosting plan I could find. It wasn't long before I turned my computer on and discovered that my site was down. After contacting tech support it took them 4 DAYS to fix the problem and get my site back up!
A quality web host will have multiple ways for you to reach them when you need them in a hurry (telephone, live chat and email as a minimum). The host mentioned above only offered email as an option, and in the end that cost me dearly.
And now, if you're wondering, here are my recommendations for a great blog host:
1 – If you only run one blog (and it runs on WordPress), I recommend that you take a look at a Dedicated WordPress Hosting solution.There is a plethora of great WordPress hosting options available today. Just do a web search for "wordpress hosting" and you'll find plenty to choose from.
2 – If you run two or more blogs like I do, a Virtual Private Server (VPS) at InMotion Hosting offers tons of bang-for-the-buck in WordPress hosting in my opinion. Several of my own sites are hosted with InMotion (this blog is one of them), and I couldn't be happier with their products and service.
Bottom line: If you're serious about your blog, you can't afford to have it hosted on a slow, over-crowded server. And you certainly can't afford to have your blog going down every other day! Luckily, a good hosting plan with a great company won't cost you an arm and a leg these days.
Bonus tip: Did you know that hackers are constantly trying to break into WordPress blogs? Luckily, it's easy to lock them out of your WordPress Dashboard. All you have to do is enable Two-Factor Authentication on your WordPress blog.
---
Click here to ask me a tech question.