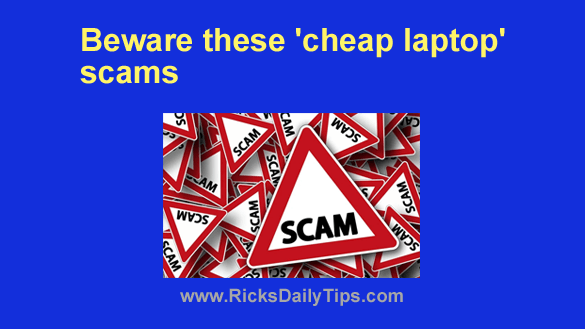 It's no secret that prices on most goods and services are continuing to rise by the day, and that has lots of folks on the lookout for a great buy whenever they can find one.
If you're looking for a new computer you need to be especially careful because the scammers are out in force, ready and waiting to take advantage of this situation.
For example, this ad popped up in my newsfeed this morning and all it took was a quick glance for me to realize it's a scam: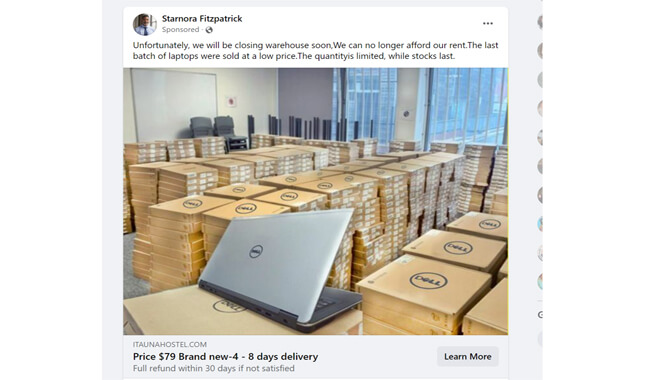 Here are several of the tip-offs:
1 – You're not going to find a brand new Dell laptop of any kind from a legitimate dealer for $79. It's just not gonna happen.
2 – The ad text is littered with grammar and punctuation errors.
3 – The website listed for the seller is apparently associated with a hostel, not a computer retailer.
4 – At least one "customer" that commented on the ad said they had already received their laptop even though the ad had just been posted a few minutes earlier. That was either the fastest shipping and delivery time in the history of mail order commerce or the comment is a fake.
Bottom line: Always be skeptical of any ad you see online, even it it appears to be legitimate. The scammers are getting more sophisticated by the day, making it ever harder to spot the real deals from the scams.
Luckily, this one was very easy to spot.
If you have already seen this ad and placed an order, I recommend that you contact your card issuer immediately to report the fraud and ask them to cancel the card.
Stay safe out there, friends!
---