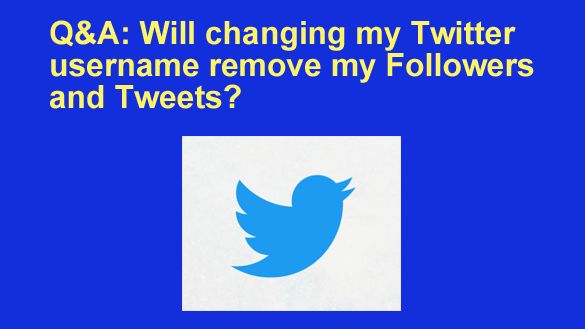 Question from Gail:  I hope you'll be able to answer a question for me, Rick.
I have a fairly active Twitter account for my business. I've had it for 3 years and it has over 11,000 followers and right at 18,600 tweets.
What I need to know is will changing my username cause me to lose my followers and tweets? The username I have doesn't really match my business very well and I'd love to change it, but not if it means I'll have to start all over.
Rick's answer: I have good news for you Gail. Changing your Twitter username will have no effect whatsoever on your followers or existing tweets. There are a couple of things to consider however:
1 – After you change your username, many of your followers might fail to recognize that your new tweets are actually coming from you and "unfollow" you. To avoid this as much as possible, I recommend tweeting a heads-up to your followers a couple of times a day for a week explaining that you're planning to change your username.
Use your heads-up tweets to inform your followers about the specific date when you expect to make the change. Also tell them to expect a tweet from you on that date letting them know that the change has been made.
2 – Be sure to update your business cards and stationary, your website/blog/social media contact info, and your email signature(s) to reflect your new Twitter username. The last thing you need is for your customers, potential customers and friends to try contacting you via the now-abandoned username.
I hope this helps, Gail. I hope everything goes smoothly for you!
Bonus tip: You've sent out an impressive number of tweets in just three years, Gail. Did you know that you can easily download an archive of every tweet you have ever posted? This post explains how.
---