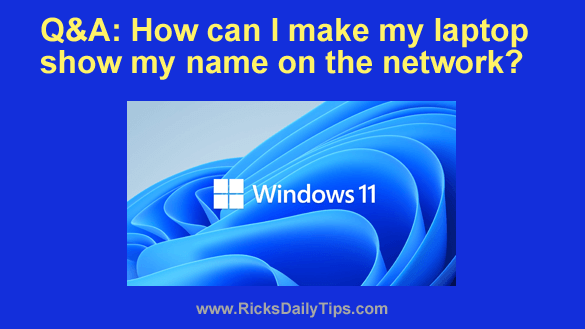 Question from Luella:  My sister bought a new laptop a while back and after using it for a couple of days she decided she hates Windows 11.
She was going to return it and buy a Mac but I told her I would just buy the laptop from her since I had been planning to buy one anyway.
The thing is this laptop shows up on our company network under my sister's name and I don't know how to fix it. I know our IT guy could do it but he's out on vacation and won't be back until the end of the month.
Would you mind telling me how to change the name on this laptop from my sister's name to my name? 
Rick's answer:  I'll be happy to help you with that, Luella.
It's actually very easy to change the name of a Windows 11 PC. Just follow the steps below:
1 – Right-click the Start button, then select System from the menu.
2 – In the left-hand pane, click System to make sure the tab you need is actually activated.
3 – In the right-hand pane, scroll down and click About.
4 – Click the Rename this PC button at the top of the right-hand pane.
5 – Type a new name for the computer into the input box.
Note: You can choose some variation of your name, of course).
Also, you can use any combination of letters, hyphens and numbers, but you cannot include a space.
6 – Click the Next button.
7 – If you have unsaved work that you don't want to lose, click the Restart later button.
If you're ready for for the machine to restart immediately go ahead and click Restart now.
That's all there is to it. After your laptop restarts its computer name will be updated to the new one you just entered.
I hope this helps, Luella. Good luck.
---