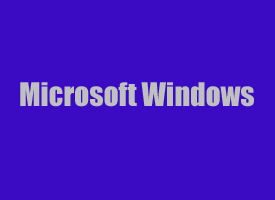 If your PC was either purchased used or "inherited" as a hand-me-down system, you probably keep seeing the previous owner's name pop up from time to time as the "Registered Owner". And I'm guessing that you probably find that a bit irritating.
It's actually pretty easy to change the Registered Owner setting in the Windows Registry. But before I show you how to do that, it is incumbent upon me to tell you the following… 
Important: The instructions listed below involve editing the Windows Registry, a procedure that can render your Windows installation unstable or even unable to boot up properly if done incorrectly. Therefore, you agree that by using this tip you do so at your own risk.
What do I mean by that? Well, if your butterfly garden starts attracting nothing but stink bugs, your car starts moving in reverse regardless of which gear it's in or your computer starts acting really weird and/or refuses to boot into Windows properly, you agree that it is not the fault of your humble tech blogger (me!).
If you agree with everything I said above, follow these steps to change the "Registered Owner" setting in your computer's Windows Registry:
1 – Press the Windows+R key combination to open a 'Run' box.
2 – Load the Registry Editor by typing regedit into the Run box and then pressing the Enter key.
3 – To make a backup of the Registry (which I strongly recommend just in case something goes wrong), click File>Export, then type a name for the backup and click Save.
4 – Navigate to this Registry key:
HKEY_LOCAL_MACHINE\SOFTWARE\Microsoft\Windows NT\CurrentVersion
5 – In the right-hand pane, right-click on RegisteredOwner and click Modify.
6 – Type the name of the computer's new owner (most likely you) into the text box, then click Ok.
7 – Click File>Exit to save your changes and exit the Registry Editor.
The new owner's name should now be set as the computer's Registered Owner. If you'd like to verify that the change has indeed been made, follow these steps:
1 – Press the Windows+R key combination to open a 'Run' box.
2 – Type winver into the Run box and press the Enter key. A dialog box should open up and you should see the current Registered Owner listed near the bottom of the Window.